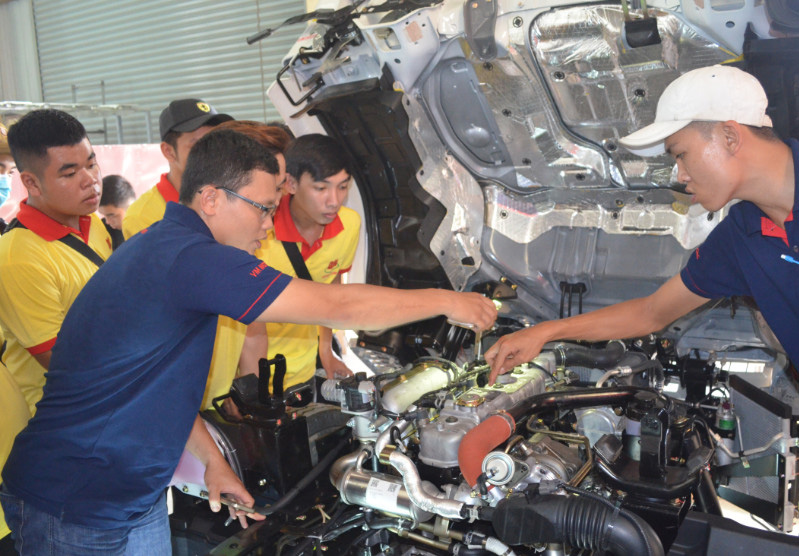 (HBO) -
Nguyen Duc Cuong, Deputy Director of the Department of Labour, Invalids and Social Affairs of Hoa Binh province, said attention has been paid to career orientation and vocational training. Vocational training has been incorporated with demand of businesses and society, he said, adding that the number of high school graduates registering for vocational training has increased in recent years.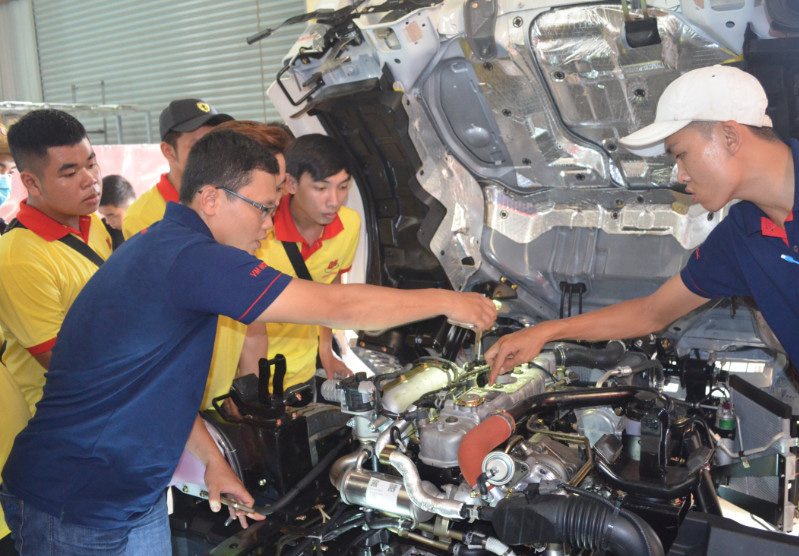 Hoa Binh College of Technology and Technique maintains auto repair classes that have attracted crowds of students.
There are about 9,000 high school graduates in Hoa Binh each year. Of whom, only about 40 percent register for university and college entrance exams and the remainder pursue vocational colleges and schools.
Schools for elementary and intermediate vocational training admit around 8,500 students each year, Cuong cited a report of the provincial Department of Education and Training.
Besides, about 1,500 students work for factories based in Hoa Binh after they complete high school education, and 8,000 are recruited by companies outside the province.
Many policies in support of vocational training have been implemented effectively in both public and private sectors.
Vocational schools at the elementary and intermediate levels have been opened in localities in Hoa Binh over the past years. Children of poor and near-poor households have received financial support to cover their study. These schools offer such majors as electricity, mechanics and electronics, among others.
The provincial People's Committee has also rolled out policies to support vocational training for labourers at industrial parks. Accordingly, businesses with 10-100 labourers will get 300,000 VND per employee, those with 100-less than 1,000 workers will receive 500,000 per worker, and firms with more than 1,000 labourer will get 1 million VND per employee. The move aims to improve the quality of human resources.
To improve the efficiency of vocational training in tandem with job creation, the provincial Party Committee's Standing Board on March 14, 2018 issued Directive No. 38-CT/TU on enhancing the leadership of the Party towards vocational training in Hoa Binh.
Under the document, Party committees, authorities, fatherland fronts and political-social organisations at all levels have been asked to better their performance in forecasting demand for human resources in each locality and the province at large, and putting forth annual enrollment plans and training programmes for each training institution.
They were also urged to build and duplicate effective vocational training models, mobilise the participation of all social resources in vocational training, while reviewing and re-arranging the network of vocational training institutions in an effort to improve training quality.
Training should target demand of the labour markets both at home and abroad, as well as the generation of stable jobs, and social welfare, the document says./.