(HBO) - As part of efforts to implement Directive 45-CT/TW issued on September 23, 1994 by the seventh Party Central Committee's Secretariat on affairs related to the Mong ethnic minority group in Hoa Binh, over the years, the province has mobilised the engagement of the whole political system and applied many measures and solutions to improve the infrastructure system and the living conditions, and preserving the cultural identity of Mong people in Hang Kia and Pa Co communes in Mai Chau district.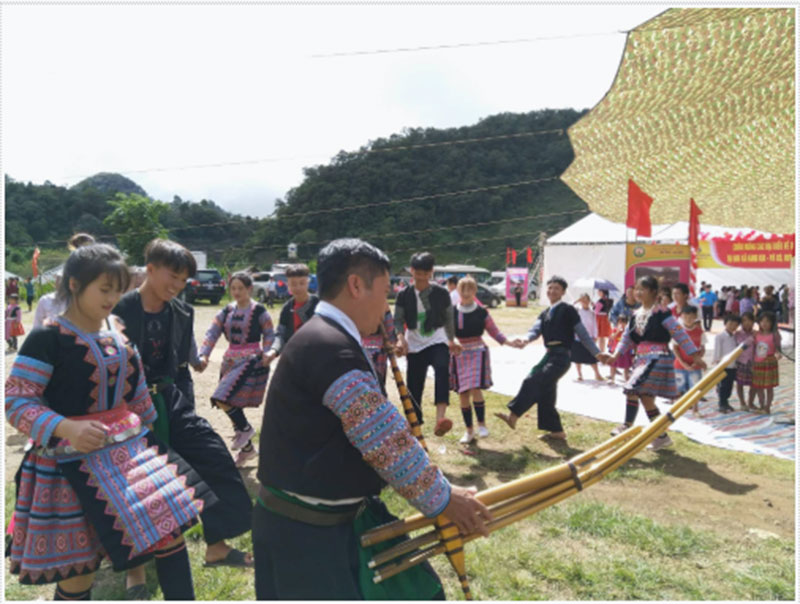 A performance by Mong artists at the conference to promote tourism and investment in Hang Kia and Pa Co communes in 2019.
After 25 years of implementing the directive, the living conditions of Mong people in Hang Kia and Pa Co communes have been improved obviously. Infrastructure system has been upgraded, while locals have accessed social security services. The poverty ratio has been reduced through years.
Backward practices have been erased, while the rate of Party members from the group has increased year by year. Locals have focused on production and promoting the cultural values of the group.
Along with special policies for ethnic minority groups, the province has paid much attention in popularising policies and law of the Party and State among the Mong community.
Therefore, the community got rid of planting opium poppy trees as well as backward practices, thus preserving and developing their valuable cultural identity.
The province has trained officials for the Party committee, and authorities as well as organisations of the two communes. Students from the group have received support to enter universities and attend training courses. Therefore, the political system in the communes has become more effective, with the efficiency of leadership, direction and management activities of the local government improved.
At the same time, departments, agencies and sectors from the provincial to district levels have also deployed a number of measures to boost the production growth of the two communes and care for poor families.
In 2018, the poverty rate in Pa Co dropped to 28.8 percent, while the rate of households living close to poverty line also fell to 14.34 percent. The figures in Hang Kia were 34.65 percent and 13.68 percent, respectively.
In order to improve local's living conditions, the province has prioritised resources for infrastructure development and applied measures to strengthen the socio-economic development in the two communes./.