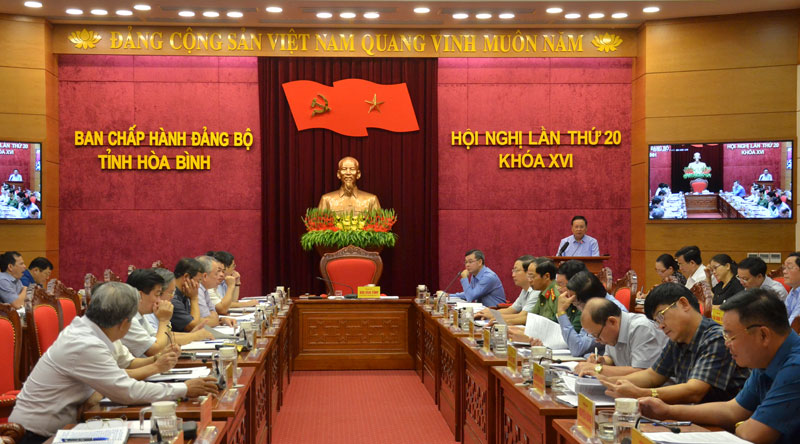 (HBO) – The Executive Committee of the Party Organisation for the 2015- 2020 tenure of Hoa Binh province convened its 20th meeting on October 3. The meeting was co-chaired by Secretary of the provincial Party Committee Bui Van Tinh, Deputy Secretaries of the provincial Party Committee Tran Dang Ninh and Ngo Van Tuan; and Deputy Secretary of the provincial Party Committee Bui Van Khanh, who is also Chairman of the provincial People's Committee.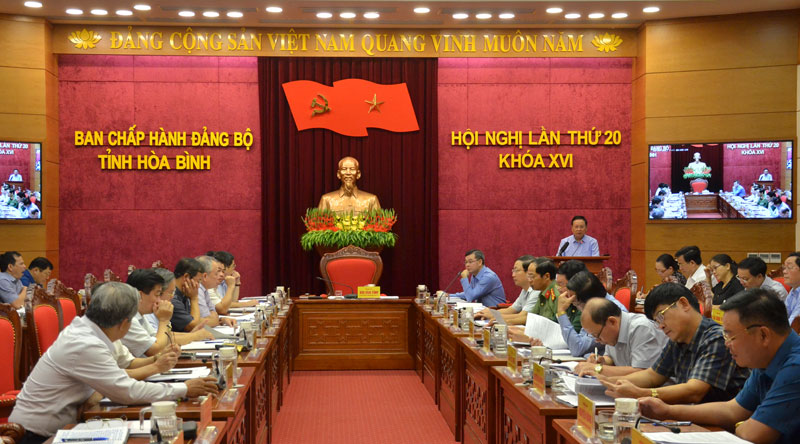 An o
verview of the meeting.
At the meeting, delegates heard adraft Report and Conclusion of the provincial Party Committee reviewing itsleadershipin performing tasks in the first nine months of 2019 and major tasks for the remaining months of the year.
During the first three quarters, the provincial Party Committee and itsstanding board have led local party committees at all levels to strictly implement the Party Central Committee's directions and flexibly apply them into local circumstances, obtaining esult, many important achievements.
The province's Gross Regional Domestic Products (GRDP) grew by 8.12 percent during the period, with agro-forestry-fishery sector expanding 3.75 percent, industry and construction 1.48 percent, and services 7.02 percent.
As many as 82 communes in the province, or 42 percent of the totalnumber, have got the new-style rural area status.
The province's industrial production was valued at 26.8 trillion VND (1.16 billion USD), up 12.7 percent year-on-year, with the index of industrial production picking up 10.5 percent.
Total retail sales of goods and services exceeded 23.73trillion VND(1.02 billion USD), a year-on-year increase of 19.24 percent. Revenue from tourism services totalled 1.65 trillion VND (71 million USD).
The province has so far collected close to 2.48 trillion VND (107 million USD) for the State budget, up 3 percent year-on-year and equal to 65 percent of the yearly goal.
It has maintained defence, security and social order while foreign affairs have been expanded.
The provincial Party Committee's standing board delivered a report on amendments to the working regulation No.08-CT/TU of the provincial Party Committee, dated May 15, 2019.
The meeting also conducted procedures to nominate a candidate for the provincial People's Council to elect as Vice Chairman of the provincial People's Committee in charge ofeconomic affairs for the 2016 – 2021 tenure.
The meeting will continue on October 4 with group discussions and a question & answer session./.