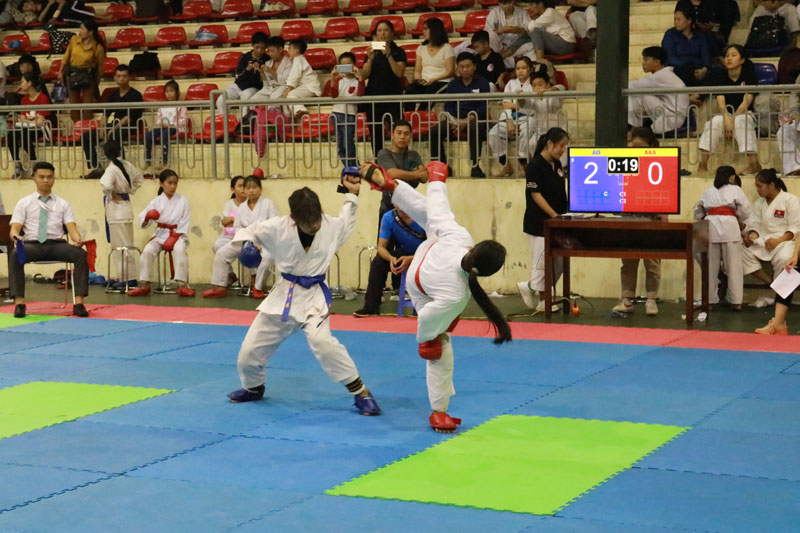 (HBO) - At the Provincial Gymnasium, the Karate League, the 3rd Karate-do Youth Competition held by Hoa Binh province in 2019.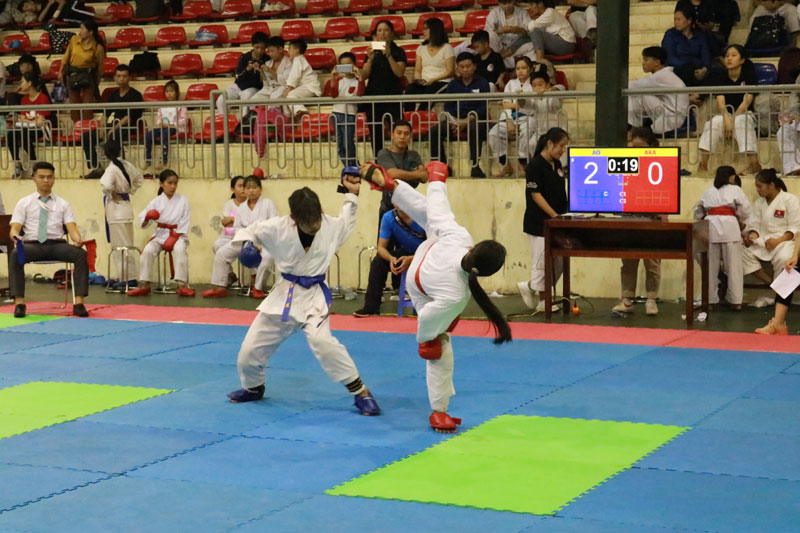 The women's individual antagonistic match (Kumite) between two athletes, Dang Thu An (Hoa Binh student with the red belt) and Bui Nhu Hai (Dao Duong with the blue belt).
There are nearly 500 athletes of 30 units coming from the Northern provinces and cities attending this year's competition. They include Hoa Binh, Hanoi, Ha Nam, Thanh Hoa, Vinh Phuc, Hai Phong, Son La, Phu Tho, Nghe An and Ha Tinh.
The athletes have competed in 75 sets of medals, competing in two main contents: individual and teammate rights (Kata), antagonism (Kumite), being divided by weight classes, ages (under 8 years old, 9 - 11 years old, 12-14 years old, 15-17 years old and over 18 years old).
At the end of the tournament, the Vuong Gia Martial Arts (Thanh Hoa) excelled and won the first group prize with 28 gold medals, 18 silver medals, 16 bronze medals; the second prize for the whole group belongs to Hoa Binh Students with 9 gold medals, 9 silver medals, 10 bronze medals and Moc Chau (Son La) with the third prize with 5 gold medals, 5 silver medals, 7 bronze medals.
Through the tournament, it is an opportunity to evaluate the training of the young athletes in the localities. Thereby, it helps the provincial Karate-do League to recruit and foster the athletes for the youth team to train and attend the regional and national tournaments.