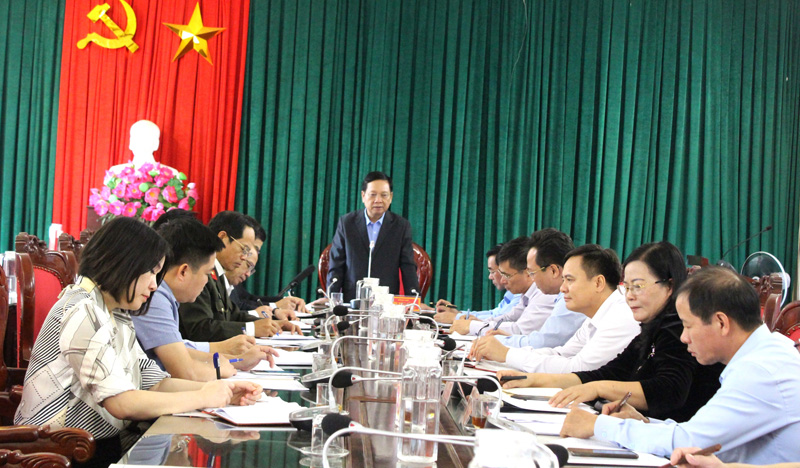 (HBO) – A delegation from the Hoa Binh Party Committee's Standing Board led by Bui Van Tinh, member of the Party Central Committee and Secretary of the provincial Party Committee, on November 6 inspected the implementation of the resolution of the 16th provincial Party Congress in the 2015-2020 period in Yen Thuy district.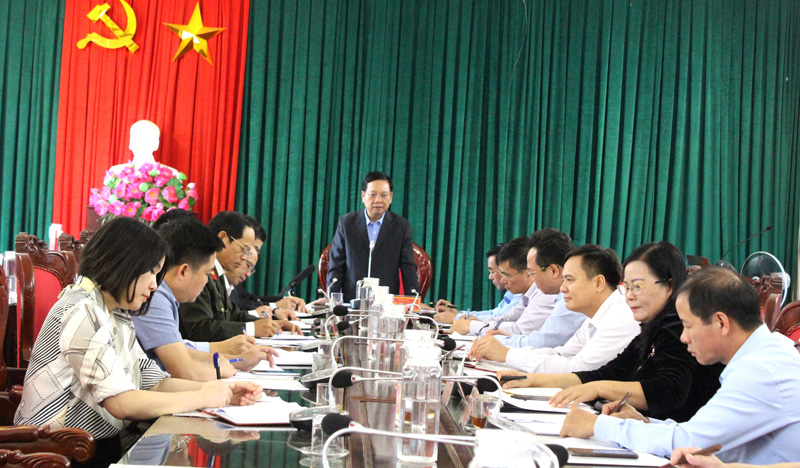 Bui Van Tinh, member of the Party Central Committee and Secretary of the provincial Party Committee, addresses the session.
After four years of implementing the resolutions released by the 16th provincial Party Congress and the 20th congress of the district's Party Committee, Yen Thuy has obtained comprehensive achievements in all fields.
At the end of 2018, the per-capita income of locals was 33.04 million VND per year, which is estimated to increase to over 35 million VND per year in 2019 and about 38 million VND in 2020.
The district's State budget collection in the district is expected to reach 29 billion VND in 2019 and 208 billion VND in the whole five-year tenure.
Meanwhile, the ratio of poor households dropped by 2.83 percent per year, completing 94.3 percent of the target set in the provincial Party Congress' resolution. The ratio is hoped to fall to 9.36 percent at the end of 2020.
So far, the district has five communes recognised as new-style rural areas. At the end of the year, the district is likely to surpass a number of targets set in the resolution, including 93.5 percent of locals joining health insurance; 40 percent of local schools meeting national standards; 80 percent of businesses certificated as cultured firms; 100 percent of communes and towns having waste collection system; and 97 percent of local households accessing clean water.
It is estimated that all 16 set targets will be completed and surpassed.
Concluding the session, Tinh recognised efforts of the Party Committee, government and locals of Yen Thuy in implementing the resolutions of the Party Congress of the district and province in the 2015-2020 tenure.
Regarding missions in the coming time, he said that Yen Thuy has many advantages for boosting strong and comprehensive socio-economic development. Therefore, in the future, it is necessary to drastically solutions, he said.
He urged the district to promptly review planning to develop agriculture in the direction of expanding scale and improving production value, while enhancing investment attraction efficiency to create more motivation for industrial expansion.
The district should design smooth mechanisms to lure big investors, while stepping up administrative reform, and ensuring stable development of culture, health care and education services as well as social safety and order, he asked./.