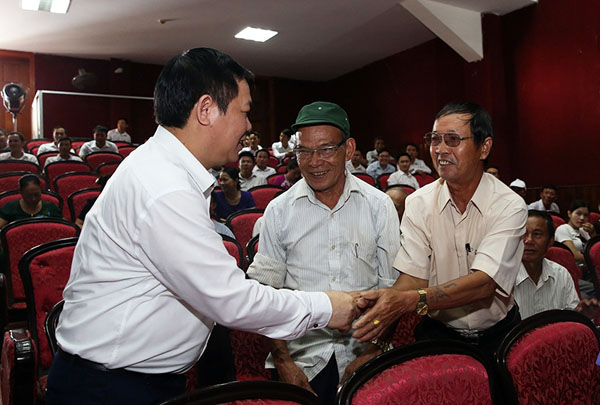 Deputy PM Hue and voters in Ha Tinh
In the meeting, local voters spoke highly of the efforts by the NA and NA deputies of Ha Tinh concerning the making of laws and the handling of complaints from citizens. They also appreciated the government's movements to build a transparent, facilitative and innovative administration for the benefit of people and business, and voiced support for its solutions to preventing corruption and improving the business climate.
Deputy PM Hue, for his part, affirmed that the voters' desires are goals for the government and the NA. He provided the voters with updates on the country's socio-economic development and answered their questions.
PhanTien Hung, a voter from Huong Son district, suggested that the government should have special policies for non-tariff areas as he was concerned that once the Free Trade Agreements Vietnam has signed come into force, duty elimination would affect the growth of the zones. In reply, the deputy PM said ministries will review all coastal and border gate economic zones and find new ways to create further development there.
Meanwhile, other voters proposed to the government to design more incentives to support farm products and prevent bumper crops leading to lower prices. In response, Hue promised to discuss the issue with the Minister of Agriculture and Rural Development and the Governor of the State Bank.
The government is formulating a resolution on agricultural insurance and agricultural investment attraction to boost the sector, he revealed.