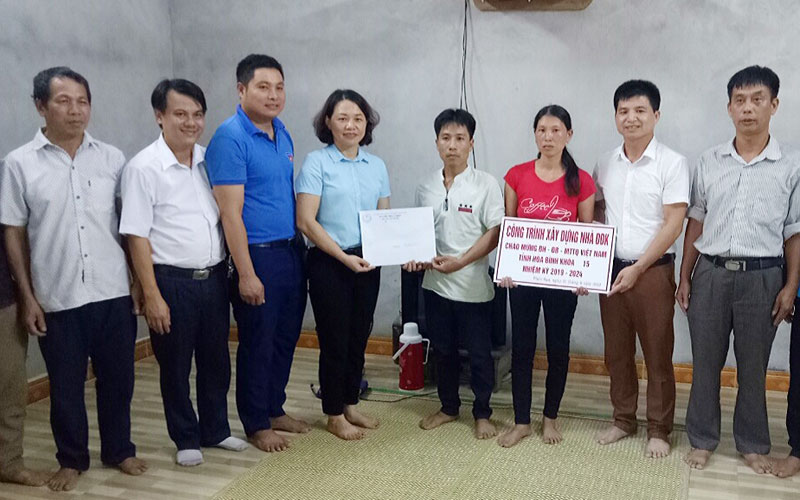 (HBO) – This year, Bui Thi Bem and her family in Lai hamlet of Tay Phong commune (Cao Phong district, Hoa Binh province) no longer have to live in a dilapidated house. Her aspiration for a solid house has now come true.
Dang Viet Toan, a resident in the same hamlet, was also assisted to build a house. Both families now have new and cozy homes to welcome the traditional Lunar New Year (Tet) festival.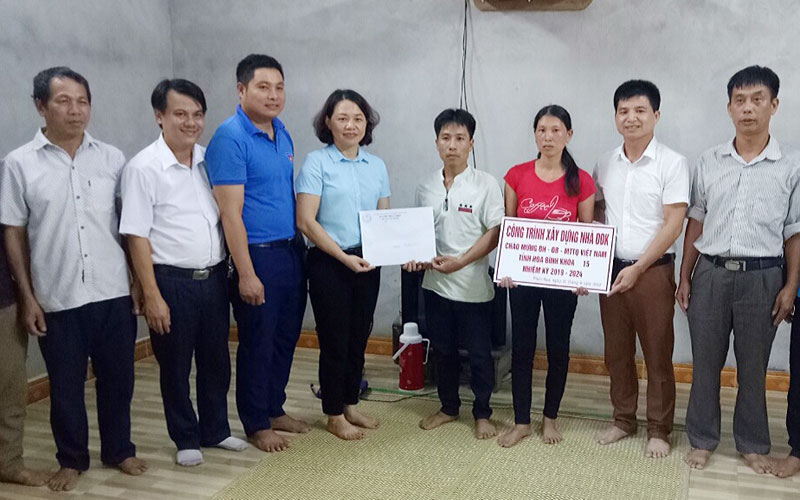 The Vietnam Fatherland Front Committee of Mai Chau district hands over a new house to Bui Van Khiem, a resident in Not hamlet of Phuc San commune (now Son Thuy commune).
In the recent past, the Vietnam Fatherland Front (VFF) committees at all levels have worked to call for donations to the Fund for the Poor, receiving strong support from the public. In 2019, more than 14.3 billion VND was donated to the funds at the communal, district and provincial levels. Thanks to this source of funding, Hoa Binh province had 170 houses worth over 3.77 billion VND built and another 73 repaired at a total cost of nearly 344 million VND for poor people. Low-income households were assisted to develop production activities and receive health examination and treatment. Support was also given to students from these households.
Dang Thi Bich Ngoc, Vice President of the provincial VFF Committee, said during the Peak Month for the Poor in 2019, the provincial VFF Committee's Standing Board launched a campaign to call for support to the provincial Fund for the Poor, which received more than 16.2 billion VND donated by 115 collectives and individuals. This was one of the practical activities in response to the emulation movement "Hoa Binh province joins hands for the poor – Leaving no one behind".
Last year, member organisations of the provincial VFF also carried out practical activities to care for low-income earners and disadvantaged people. For example, the association of war veterans helped its members to build and repair 32 houses, the provincial women's union handed over 34 new houses to disadvantaged members, and the farmers' union mobilised funding to build 16 houses. Thanks to the public's assistance, many deprived households in Hoa Binh have had new homes to welcome the New Year.
Aside from support for house construction, on January 8, the provincial VFF Committee issued a plan to visit and present Tet gifts to the poor with a view to ensuring that all families, especially policy beneficiaries, will have a happy Tet. Relevant sides visited and presented the gifts from January 13 to 21 (from the 19th to the 26th day of the 12th lunar month). Additionally, six businesses also plan to present thousands of gift packages worth 400,000 – 1 million VND each to poor households in the province./.