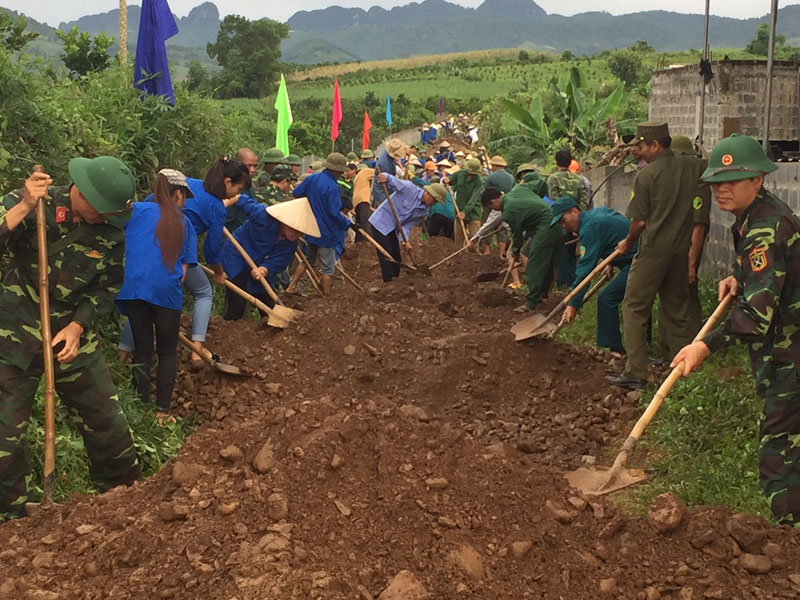 (HBO) – This year's campaign on studying and following Ho Chi Minh's thought, morality and lifestyle has been launched nationwide with the theme "Strengthening the national great unity bloc, building a strong and clean Party and political system". The content is of significance in 2020 when a number of major political events will be held and many tasks set for the whole Party, people and armed forces.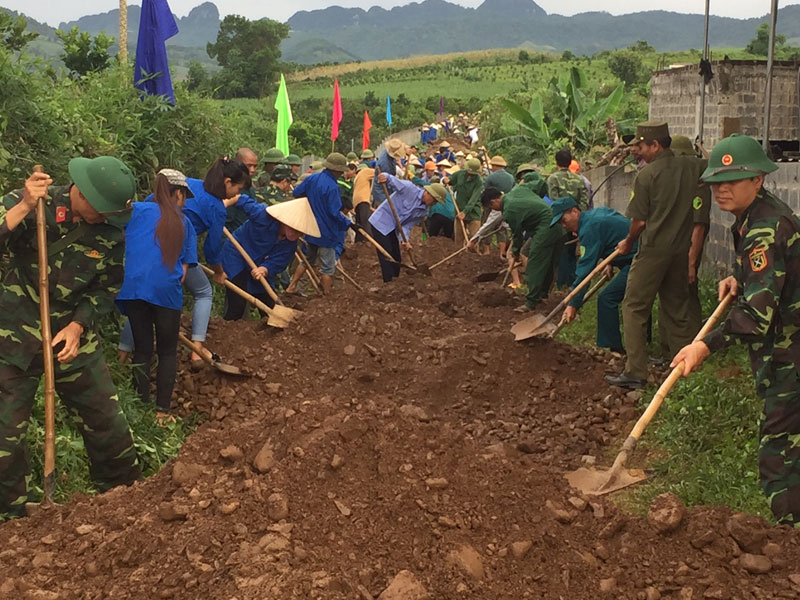 Residents in Dung Phong commune, Cao Phong district, are eager to build rural roads.
The theme also holds significance for the Party Organisation, administration and people of Hoa Binh province. More than five decades ago after the passing of President Ho Chi Minh, the Politburo issued Directive No.173/CT/TW dated September 29 on studying and following President Ho Chi Minh's Testament. It was a widespread political activity of the entire Party and people of local ethnic groups with the determination to fulfill his promise of strengthening solidarity and building Hoa Binh into a beautiful and prosperous province, making active contributions to the cause of southern liberation, building and protecting socialism in the north. The activity improved the fighting capacity of the entire Party Organisation, reinforce the great unity bloc of the entire Party, people and armed forces, thereby adding strength for the province to accomplish important tasks.
The provincial Party Committee added the content of following President Ho Chi Minh's thought, morality and lifestyle into an action programme and directed all subordinate Party Organisations, Vietnam Fatherland Front and mass orgainsations to realise it. All localities and units also incorporated the content into action plans to realise resolutions adopted by Party Congresses at all levels. All officials and cadres devised plans to perform the content annually. In particular, the Standing Board of the provincial Party Committee directed spreading outstanding models in the campaign in the 2017-2020 period. The province has so far recorded 1,777 exemplary models, contributing to the successful implementation of the Resolutions of Party congresses at all levels for the 2015-2020 tenure.
Due to the important role of the campaign, the Standing Board of the provincial Party Committee has requested for the performance since the beginning of this year, including raising awareness of key officials via teleconferences from the central to provincial levels and 11 others in the city and districts. The provincial Party Committee also issued Plan No.259-KH/TU dated January 13, 2020 on carrying out the campaign in the whole Party Organisation./.