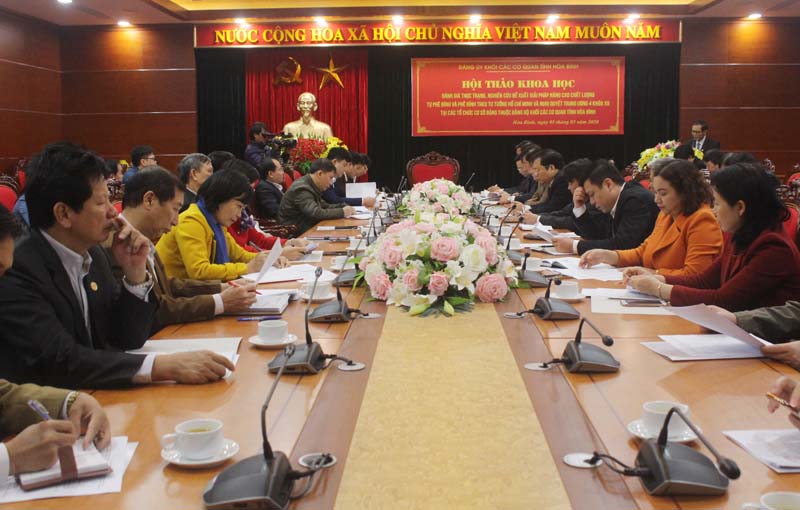 (HBO) - The Party Committee of the Hoa Binh provincial Agencies' Bloc held a symposium on March 5 to assess, study and propose solutions to improving the quality of self-criticism and criticism following Ho Chi Minh thought and the resolution of the 12th-tenure Party Central Committee's fourth plenum at grassroots-level Party organisations under the Party Organisation of the provincial Agencies' Bloc.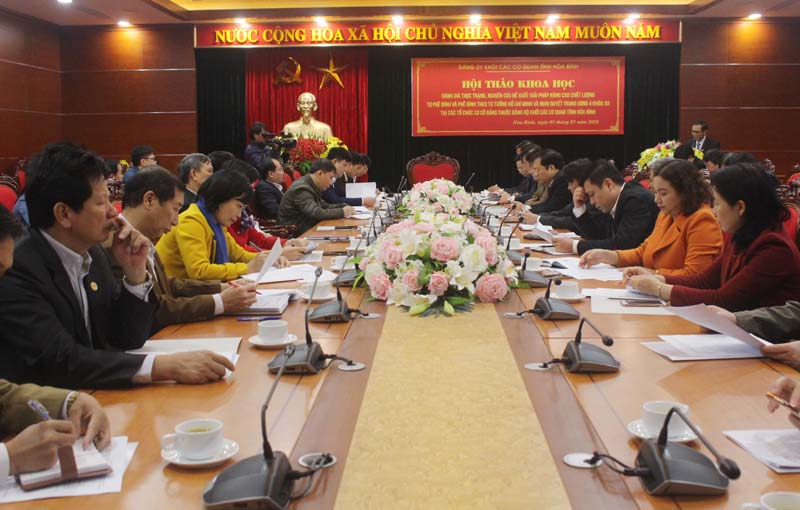 Delegates attending the workshop.
Surveys show that the studying and dissemination of the resolution of the 12th-tenure Party Central Committee's fourth plenum and the upper level's directions on self-criticism and criticism have been conducted fully and seriously. Through the self-criticism and criticism work, shortcomings of the provincial Party committees and organisations have basically pointed out and the morale and attitude of each Party member have been raised. More and more collectives and individuals have raised their opinions to key officials, showing the openness and democracy of pointing out advantages and disadvantages of key officials at grassroots level. All opinions and recommendations have been acquired by key officials, so they can fix their shortcomings.
At the seminar, representatives from grassroots-level Party organisations discussed measures to better self-criticism and criticism following Uncle Ho's teachings, the work in Party cell activities, the role of the Fatherland Front in supervising self-criticism and criticism in Party organisations, and application of Marxism-Leninism and Ho Chi Minh Thought in self-criticism and criticism.
Participants also clarified theoretical and practical issues such as the position, role, nature and objectives of self-criticism and criticism in grassroots-level Party organisations at present, the criteria to assess the work, and factors and reasons affecting the quality of the work and the relationship between this issue with the building of the political system and the implementation of political tasks of grassroots-level Party organisations./.