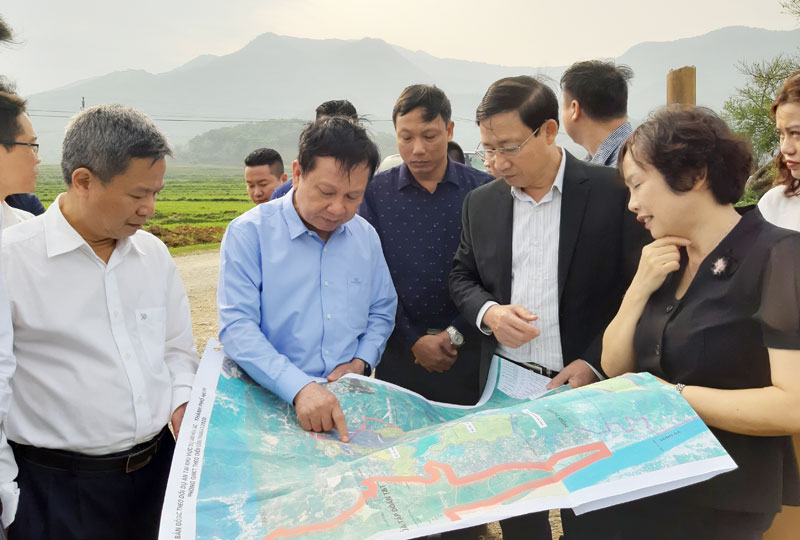 (HBO) – Member of the Party Central Committee and Secretary of the provincial Party Committee Bui Van Tinh inspected the construction progress of Truong Muong, Tien Tien industrial clusters and Yen Quang industrial zone in Quang Tien commune of Hoa Binh city on March 10.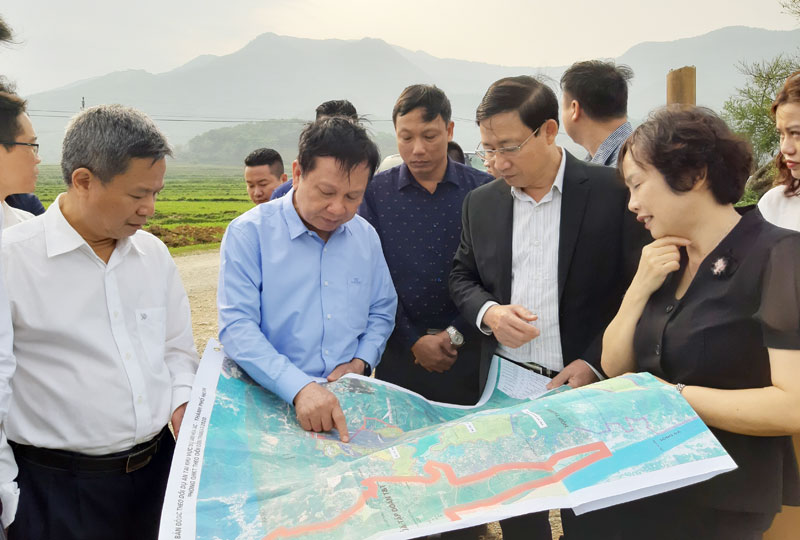 Member of the Party Central Committee and Secretary of the provincial Party Committee Bui Van Tinh and a working delegation examine progress of the Tien Tien industrial cluster project in Quang Tien commune (Hoa Binh city).
The project to build infrastructure at Trung Muong industrial cluster in Quang Tien commune is invested by Thanh Cong cooperative with total cost worth 240 billion VND (10.34 million USD). Spanning an area of about 34 ha with synchronous infrastructure, the industrial cluster is set to lease land for secondary investors.
During the inspection trip, Tinh underlined that the industrial clusters and zone are located in strategic areas and play a key role in the province's plan for industrial development and investment attraction for socio-economic growth, especially as the Hoa Lac-Hoa Binh route has been put into operation.
Local departments, sectors and Hoa Binh city's authorities need to bolster collaboration to remove bottlenecks and assist investors in speeding up progress of the projects as pledged.
The provincial Party Committee will assign a member of its standing board to keep a close watch on the implementation of industrial infrastructure projects, he added. Meanwhile, investors need to demonstrate their responsibility by focusing resources on the implementation of the projects.
The investor of Yen Quang industrial zone was asked to complete land clearance and administrative procedures by June, towards attracting secondary investors within the year.
Regarding the Tien Tien industrial cluster, the investor was required to quickly complete procedures to carry out investment plan. Meanwhile, Trung Muong has been lagging behind schedule, if the situation continues, authorities will consider asking the provincial People's Committee to revoke the project./.