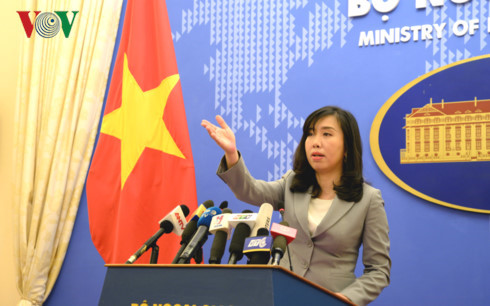 Vietnam continues to demand the countries make positive contributions to maintaining peace, stability in the East Sea on the basis of international law, said Foreign Ministry spokesperson Le Thi Thu Hang at a press briefing on October 12 in Hanoi.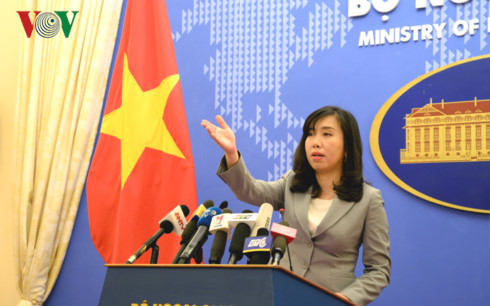 Hang made the statement in reply to the reporters' questions about the US Navy destroyer's arrival on October 10 near the islands in Vietnam's Hoang Sa (Paracel) Archipelago under Vietnamese sovereignty that China unilaterally claims the unreasonable sovereignty.

"As a sovereign state over Hoang Sa Archipelago and as a member of the 1982 United Nations Convention on the Law of the Sea (UNCLOS), Vietnam has repeatedly affirmed its consistent stance that every country has the right to enjoy freedom of navigation and aviation in the East Sea in accordance with the provisions of international law, especially UNCLOS," she said.

On October 10, Reuters quoted US officials as saying that the guided missile destroyer USS Chafee had sailed close to Vietnam's Hoang Sa (Paracel) Archipelago but not within 12 nautical miles of the islands.

The same day, the official also responded a question on the Cambodian administration's plan to re-grant legal papers to expatriates in Cambodia, including the Vietnamese.

Vietnam wishes that Cambodia will continue making it easier in terms of legal conditions and adopting proper measures to ensure the legitimate rights and interests of Vietnamese Cambodians in the country as stated by the two countries' leaders and in line with Cambodian and international law.

"Vietnam and Cambodia have maintained the time-honoured neighbourly friendship. The Vietnamese-Cambodian community in Cambodia has contributed to Cambodia's development as well as reinforcing the tradition and friendship between the two countries," Hang said.

"We hope that during the process of finalizing their legal papers, these people are helped to stabilize their lives to contribute their part to Cambodia's socio-economic life, thereby strengthening the traditional friendship and all-around cooperation between the two nations," she added.
Source: VOV