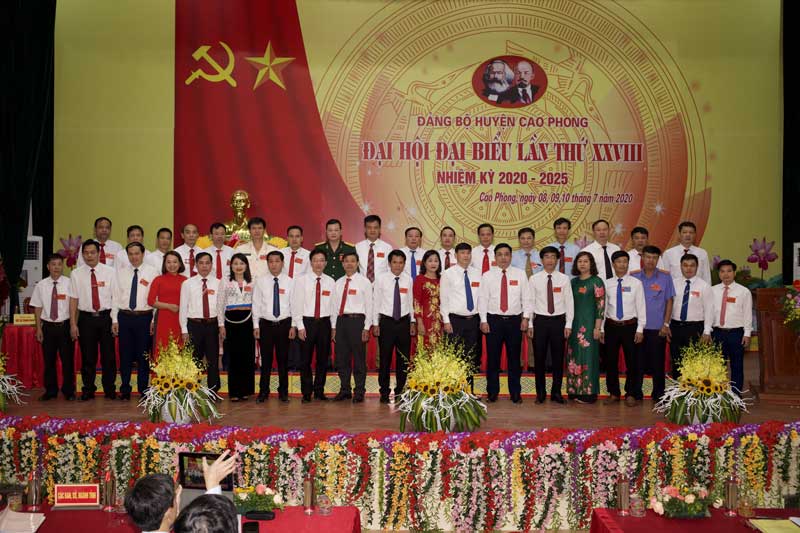 (HBO) – The Party organisation of Cao Phong district opened the 28th congress for the 2020 – 2025 tenure on July 9. Vice Secretary of the Hoa Binh provincial Party Committee Ngo Van Tuan attended the event.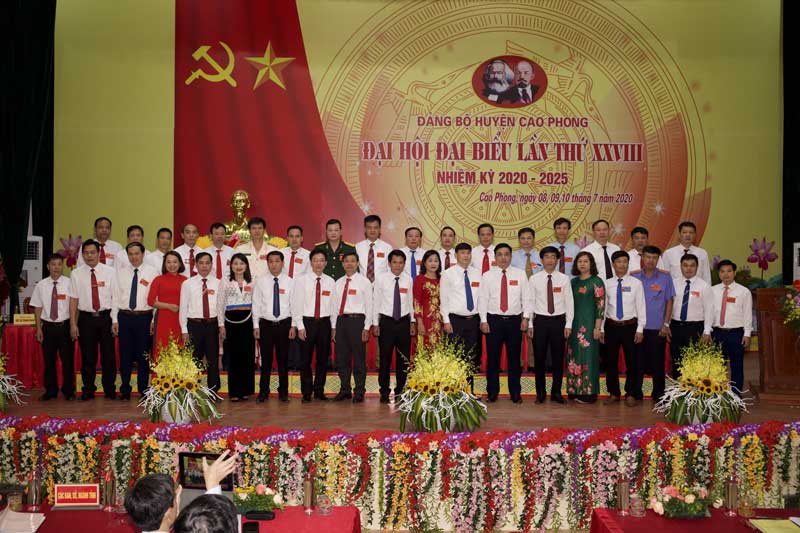 Vice Secretary of the Hoa Binh provincial Party Committee Ngo Van Tuan presents flowers to congratulate the 28th Party Congress of Cao Phong district.
At the opening session, the district Party Committee reported that over the last five years, despite numerous difficulties and challenges, the Party organisation, administration and people of Cao Phong have brought into play solidarity and creatively implemented the Party and State's guidelines and policies, thus recording achievements in all fields.
Three strategic breakthroughs have been carried out well, namely administrative reform and business climate improvement, human resources development, and infrastructure development.
The district has sustained fair growth with the production value rising 11.24 percent annually on average and per capita income estimated at 50.4 million VND (1,160 USD). People's material and spiritual lives have continually been improved, with the household poverty rate brought down to an estimated 10.52 percent in 2020.
Besides, defence and security have been firmly safeguarded. The building of the Party, administration, Vietnam Fatherland Front and organisations from the district to grassroots levels has been promoted. Cao Phong has been among the top performers in the patriotic emulation movements in Hoa Binh province for many consecutive years.
The 28th Party Congress set several targets for the 2020 – 2025 tenure, including continuing to build an incorruptible and strong Party organisation, bringing into play the strength of local ethnic groups' solidarity, developing high-quality agriculture in association with industry and tourism, and becoming a new-style rural district by 2025.
It also targeted 62 million VND in average per capita income, 66 billion VND in State budget revenue, an urbanisation rate of over 22 percent, 8.3 doctors per 10,000 residents, and all communes recognised as new-style rural areas in the next five years.
Addressing the congress, Vice Secretary of the Hoa Binh provincial Party Committee Ngo Van Tuan applauded efforts by the Cao Phong Party organisation and people to obtain major achievements over the past years. He also spoke highly of their solidarity, creativity and effective optimisation of local potential and advantages to boost socio-economic development, along with their effective Party and political system building and improved leadership capacity.
He requested that in the new tenure, the district Party Committee further capitalise on the local solidarity and creativity, strongly reform leadership mindset, and issue drastic directions to effectively carry out political tasks.
In particular, the committee needs to continue improving the leadership role of the Party organisation, enhance the political system's efficiency, build up the great solidarity bloc, step up patriotic emulation movements, and perform socio-economic development tasks well.
Tuan also asked it to promote safe and high-quality agriculture in association with agricultural restructuring; boost the application of sci-tech advances to farming, especially the farming of Cao Phong orange; and summon every resource for implementing the national target programme on new-style rural area building.
Additionally, it is necessary to increase administrative reforms; specify leaders' responsibility in management, governance, and business climate improvement; and firmly maintain political security and social order and safety so as to create a stable environment for fast and sustainable economic development, according to the official./.