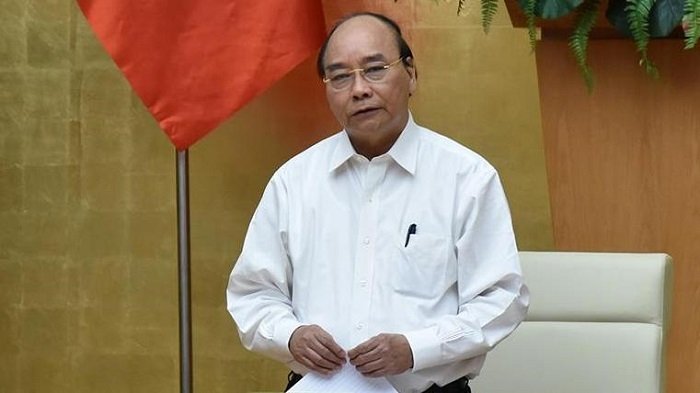 Prime Minister Nguyen Xuan Phuc has requested that the central coastal city of Da Nang and the relevant authorities step up COVID-19 prevention and control measures, amid the detection of several coronavirus infections within the community in recent days.

PM Nguyen Xuan Phuc. (Photo: NDO/Tran Hai)
On Sunday afternoon (Jul 26), the Government Office issued an urgent document conveying the PM's direction to the People's Committee of Da Nang, the Ministry of Information and Communications, the Ministry of Science and Technology and the Ministry of Health to strengthen the prevention and control of COVID-19.
The document stated that, in order to effectively control the outbreak in Da Nang, the PM requested the Da Nang People's Committee to urgently and drastically implement his directions given at a recent cabinet meeting on containing COVID-19.
The PM requested that the Ministry of Information and Communications and the Ministry of Science and Technology support Da Nang in promoting a wide-scale traceability programme in the city, to detect those who have had close contact with the newly-confirmed COVID-19 patients, as well as those at risk of infection, including tourists.
The Ministry of Health was asked to support Da Nang in strengthening its capacity for testing and treatment, as well as investigating and supervising the epidemic developments, especially on subjects and local areas at high risk of infection.
By late Sunday, Da Nang recorded three cases positive for the SARS-CoV-2 virus that causes COVID-19. Known as Patients 416, 418 and 420, the Da Nang trio are being provided with treatment at several local hospitals with the support of doctors from Da Nang Hospital, the Ho Chi Minh City-based Cho Ray Hospital and a special mission from the Ministry of Health.
Among them, Patient 418, a 61-year-old man, is suffering from heart complications and respiratory failure, as well as kidney damage due to diabetes and hypertension. He is now on assisted ventilation.
Patient 416, a 57-year-old man, is also under mechanical ventilation as well as dialysis and extracorporeal membrane oxygenation (ECMO).
Patient 420, a 71-year-old woman, was hospitalised at Da Nang C Hospital on July 22.
As of 11 pm on Sunday night, Da Nang finished disinfecting Da Nang C Hospital and Da Nang Hospital, the two facilities that are providing treatment for the three local COVID-19 patients.
Soldiers from the 78th Chemical Battalion (under the Military Region 5 Command) disinfecting Da Nang Hospital on Sunday night. (Photo: NDO/Anh Dao)

The two hospitals had seen Patients 416 and 418 visiting there before being confirmed as infected with COVID-19. Both hospitals are currently cordoned off, with the Da Nang Hospital providing 14-day isolation for all of its doctors, officials, medical staff and patients' relatives since 1 pm on Sunday. Currently, over 400 medical staff have been brought to the set quarantine camps for 14-day isolation as required.
As of 9 am on Monday morning (Jul 27), no further COVID-19 infections have been reported in Vietnam, according to the National Steering Committee for COVID-19 Prevention and Control.
The total number of infections still stands at 420, 276 of whom were imported and quarantined upon arrival.
As many as 365 COVID-19 patients have been announced as recovered, with no related deaths recorded so far.
Among the 55 remaining active patients, five have tested negative for SARS-CoV-2 once and three tested negative at least twice. There are currently nearly 12,000 people who had close contact with COVID-19 patients or entered Vietnam from pandemic-hit regions being quarantined.
Source: NDO