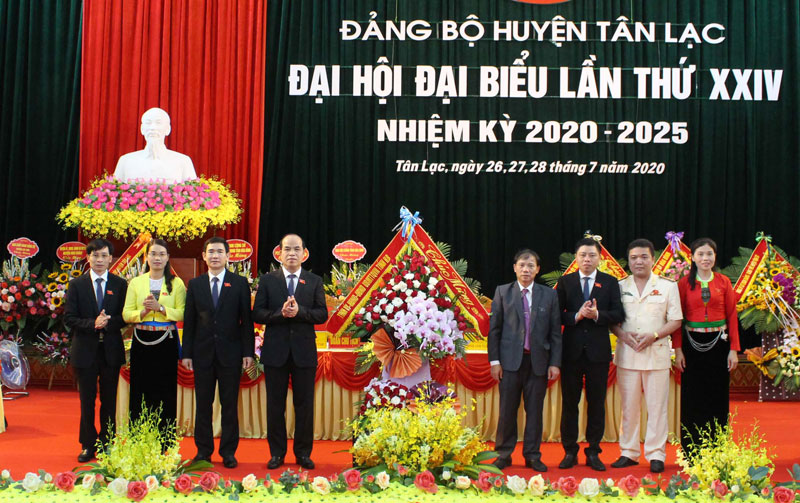 (HBO) - Tan Lac district's Party organization on July 27 convened its 24th congress for the 2020-2025 tenure, bringing together 255 delegates representing over 6,200 Party members in the locality.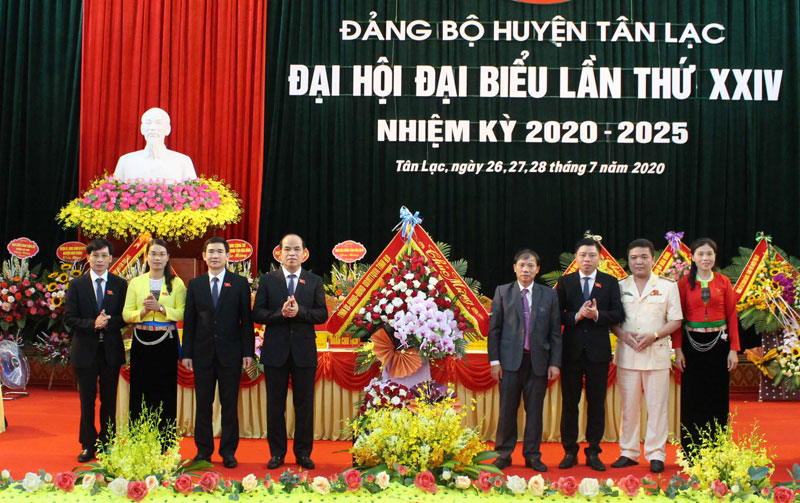 Vice Secretary of the provincial Party Committee and Chairman of the provincial People's Committee Bui Van Khanh presents flowers to congratulate Tan Lac district's Party congress.
Implementing the Resolution of the 23rd congress of the district's Party organization, Tan Lac has completed and exceeded 14 out of 17 targets set by the resolution. The district recorded stable economic growth at an annual average 13.7 percent, with its structureshifting in the right direction.
Annual per capita income reached 31.7 million VND; State budget revenue increased by nearly 25 percent a year; 33.3 percent of communes have fulfilled new-style rural area standards.
Theagriculture - forestry sector has witnessed the crop and animal structures shifting towards improving the quality and value of products. Attention has been given to promoting industry, trade, services, and tourism.
The socio-cultural field has recorded new development steps, while poverty reduction and social security policies have been implemented timely and effectively, and defence and security have been ensured.
The locality has also paid heed to Party building and enhancing the leadership and fighting capacity of Party organisations. It well implemented Resolution of the 12th Central Party Committee in connection with promoting the implementation of Directive No. 05 / CT-TW. Many collectives and individuals with outstanding achievements in studying and followingPresidentHo Chi Minh'sthought, morality and stylehave been honoured.
Speaking at the event, Vice Secretary of the provincial Party Committee and Chairman of the provincial People's Committee Bui Van Khanh praised the district Party organisation for its achievements during the last tenure.
He called on delegates to uphold the spirit of solidarity and responsibility during discussions to contribute practical opinions to the documents presented at the congress, thus deciding goals, tasks, and important solutions for the 2020-2025 term.
He underlined the need for participants to give comments on the draft document of the 13th National Party Congress and the draft political report to be submitted to the 17th provincial Party congress.
He asked delegates to abide by regulations of the congress and Party election rules to elect a united, reputable, and qualified district Party Committee in the 24th tenure to lead the district Party Committee, towards successfully implementing Resolution set by the congress./.