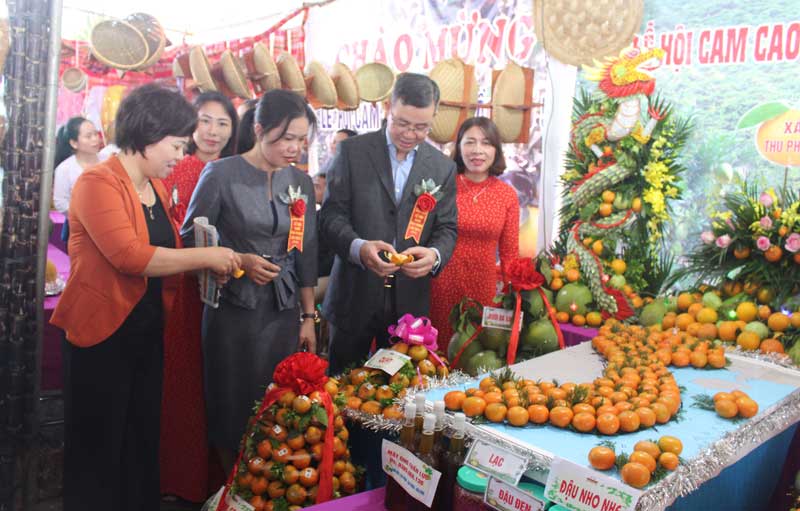 (HBO) - Over the past five years, the Party Committee, the authorities and the people in Cao Phong District have promoted the spirit of solidarity and have achieved the important and comprehensive results in all fields. Most of the socio-economic targets set out in the Resolution of 27th District's Communist Party Congress have been completed and exceeded.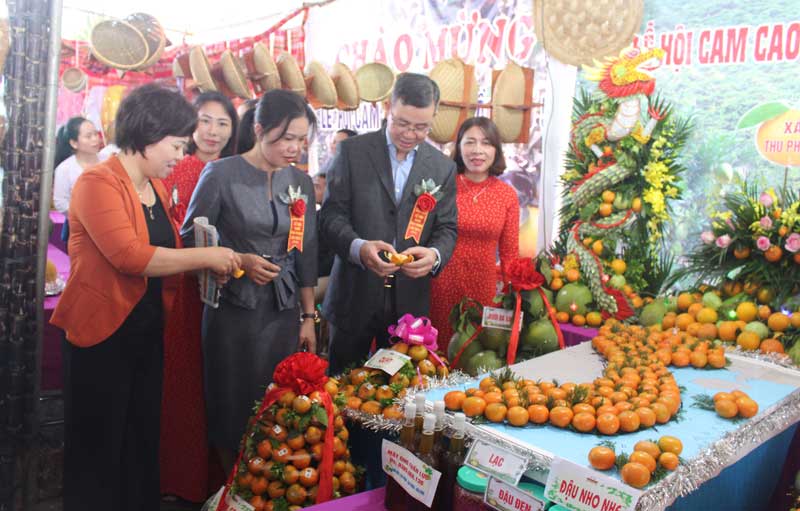 Leaders of Hoa Binh province anh Cao Phong district at Cao Phong orange festival.
The average growth rate of production value has reached 11.24% a year. The economic structure in production value has shifted in a positive direction. Per capita income has been estimated at 50.4 million VND. The state budget revenue in the area has increased by 14% per year on average. The rate of urbanization is estimated at 16% by the end of 2020. The leaders have made good implementation of 3 strategic breakthroughs, including reforming the administrative procedures, improving the business environment and developing the human resource and investing in building infrastructure systems. Thereby, it has been creating a new position and force for Cao Phong to sustainably develop.
The schools have been well-built with the modern facilities and teaching equipment to better serve teaching and learning. The health system from the district to the grassroots levels has quite comprehensively been invested, meeting the need of medical examination and treatment for the local people. The technical infrastructure in the communes has been built in the direction of modernization and civilization. By 2020, the district will have 4 communes meeting the standards of the new rural areas, and Dung Phong commune has met the enhanced standards of the new rural areas. The social security has always been guaranteed, the people's material and spiritual life has constantly been improved. By 2020, the rate of poor households is estimated to decrease to 10.52%.
The Party building has achieved positive results. The Fatherland Front and the other mass organizations have been promoting the role and the power of the great unity of the entire people in the socio-economic development and the construction of the Party and Government.
The Party committee of Cao Phong district has set out the targets for the next term. They are continuing to build a clean and strong Party Committee; promoting the strength of the great unity of the peoples, developing high quality agriculture in association with industry and tourism, trying to make Cao Phong become the new rural district by 2025, contributing to successfully implementing the Resolution of the 17th Provincial Party Congress and the Resolution of the 13th National Party Congress of the Party.