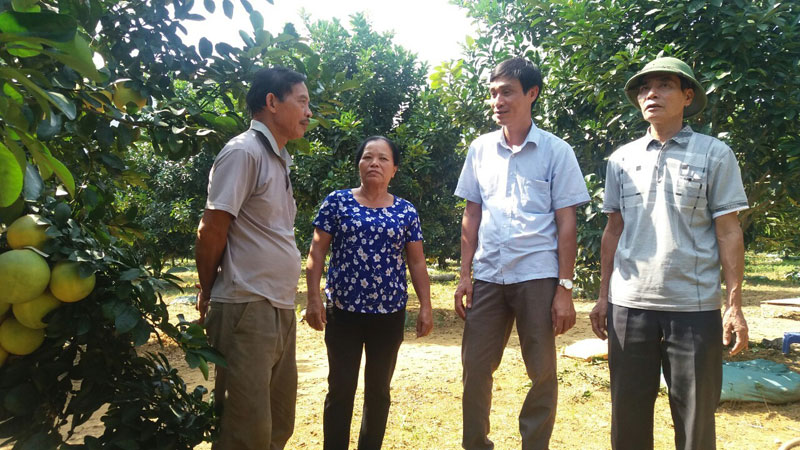 (HBO) - Lac Thuy today is growing strongly thanks to its breakthrough change from leadership mindset to specific action plans. The first is the determination to build a clean and strong political system to create a solid foundation for the innovation of leadership, direction and administration.
Thanks to mindset change, many farmers in Lac Thuy district have become rich from agricultural production. The VietGap-standard orange growing model brings high economic efficiency in Ba Hang Doi township.
At the same time, it actively found its own direction, dared to think, dared to do, paid attention to removing difficulties and obstacles right from the grassroots level, thus bringing a "new wind" in the leadership and direction of the Party organisations and administrations at all levels.

During the 2015-2020 tenure, on the basis of being fully aware of potentials and advantages, difficulties and challenges, the district gave the top priority to the implementation of mechanisms and policies to support economic growth. The political system at all levels upheld their leadership role in policymaking, building action plans and specific policies, thus creating a new face for its socio-economy.
A highlight of the change in economic thinking of the Lac Thuy district Party Committee, authorities and people is the development of tourism - services industry associated with efforts to attract investment, mobilise resources to fuel socio-economic development. Statistics showed that the district drew 50 projects worth over 15.5 trillion VND during 2015-2020, many of them are on national scale with a total investment of trillions VND. Such results contributed to bringing the local growth at 13.5 percent in the past five years, the average income per capita of 50 million VND each year, the rate of poor households to 2.4 percent from 5.5 percent.
Secretary of the district Party Committee Bui Van Truong attributed such result to officials and ethnic groups' awareness of the Party guidelines, the State policies and laws. Apart from strong change in leadership mindset in combination with drastic actions to achieve socio-economic development goals, the district always paid attention to the great national unity among the Party and public.
It is public consensus that laid an important foundation for the district Party units and authorities at all levels to improve working efficiency. The local leaders closely grasped situation in each commune and township, promptly collected public aspirations for consideration. It was a solid basis for the district to continue carrying out action programmes, soon bringing the Resolution adopted by all-level Party congresses during the 2020-2025 tenure into life, becoming a source of strength to further develop Lac Thuy to a greater height, deserving as a socio-economic locomotive of the province./.