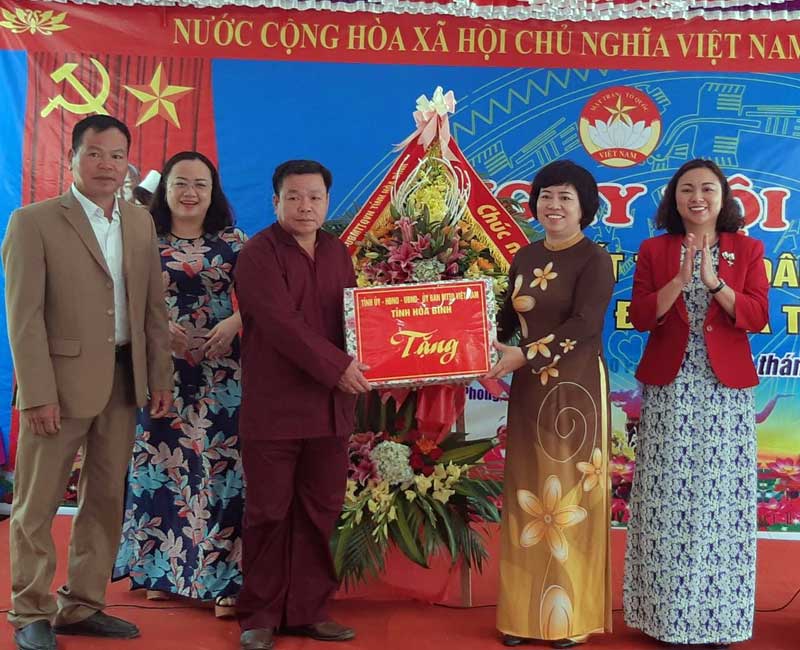 (HBO) – Over the past years, local chapters of the Vietnam Fatherland Front (VFF) have renewed operations and strongly geared towards the people at the grassroots level, thereby affirming that VFF is a hub of solidarity that upholds public solidarity and brainpower and strengthens the great national unity, contributing to realising Resolution adopted by the provincial Party Congress.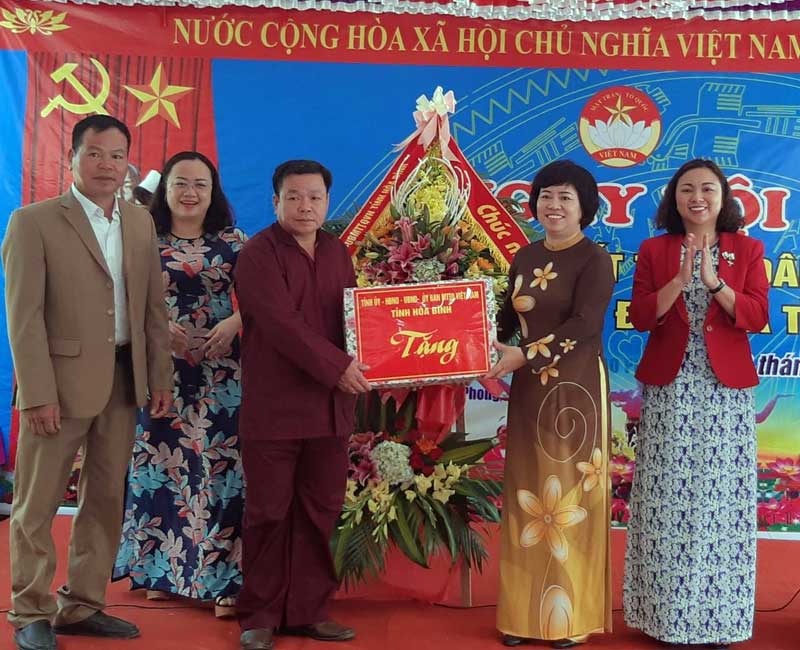 Head of the provincial Party Committee's Commission for Mass Organisation Nguyen Thi Oanh presents gifts to residents and officials in Doi village, Tay Phong commune, Cao Phong district, during the 2019 great national unity festival.
Nguyen Thi Oanh, head of the provincial Party Committee's Commission for Mass Organisation, said the VFF advocates renewing operations towards the grassroots level, targeting them for the popularisation work.
The provincial VFF instructed its chapters at all levels how to closely follow local development orientations, focusing on the five key tasks, firstly diversifying the forms of gathering people from walks of life and uniting them into a solid great national unity.
Apart from representatives of mass organisations, the VFF also paid attention to nominating intellectuals, outstanding individuals, village chiefs, religious dignitaries, prestigious persons in the community, and successful businesspeople as members of the VFF chapters at all levels. It also devised suitable measures and mechanisms to uphold their role in the VFF's activities and national patriotic emulation campaigns. The VFF congresses at all levels during the 2019-2024 tenure agreed to elect 6,116 members who are nucleus in communications campaigns to raise public awareness of the Party policies and guidelines and State laws. Campaigns and patriotic emulation movements launched by the VFF were welcomed by the public. A number of effective models have been widely spread, notably the campaigns "All people stand united to build new-style rural and civilised urban areas", "Vietnamese prioritise Vietnamese goods", raising the "For the Poor" fund and recently raising fund for COVID-19 prevention and control. In response to the provincial VFF chapter's appeal, over 800 individuals and collectives in and outside the province donated over 12 billion VND in cash and kind to the fight against COVID-19. Over the past five years, nearly 50 billion VND have been raised for "For the Poor" fund, which have been used to present gifts, offer health check-ups and treatment, build and repair over 1,600 houses, especially launching livelihood models for sustainable poverty reduction and construction of bridges and schools for poor communities.
The VFF chapter's creativity has also been reflected in 130 self-governance models in the community, notably civilised streets and the waste-free residential area model, and model residential area contest.
The VFF chapters at all levels also paid attention to protecting legitimate rights and interests of the people, and promptly reflecting their aspirations, serving as a bridge between the people and Party and administration authorities. They also upheld their social supervision and criticism role, and built strong and transparent Party and administrations. During the 2015-2020 period, as many as 1,095 supervisions have been carried out. The people's inspection board and community investment supervision committee conducted 1,377 supervisions, proposed solving 483 cases, contributing to upholding the people's right to mastery. As for social criticism, public feedbacks were given on 108 draft laws and legal documents.
Receptions and dialogues with citizens to acquire their thoughts were held regularly. Over the past five years, they hosted 204 receptions for citizens, collected 384 letters and complaints, held more than 400 dialogues between authorities and people with over 2,500 opinions being collected.
Through the activities of the VFF and its chapters, people from walks of life have united, creating a consensus to fulfill the political tasks. The local VFF chapter will continue consolidating itself for local sustainable development, Oanh said./.