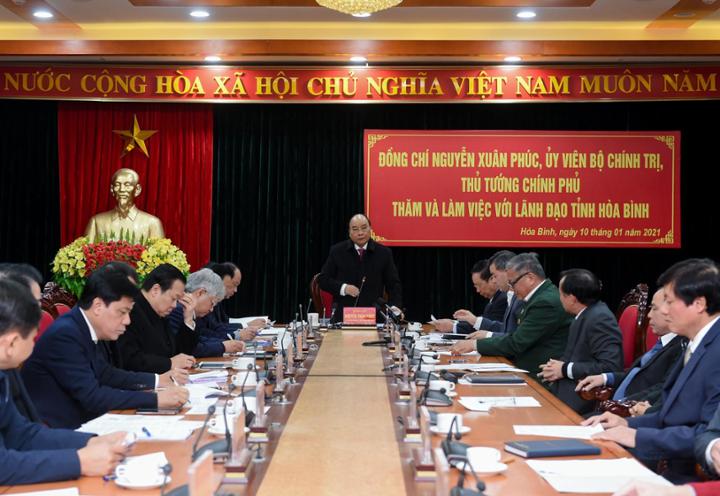 (HBO) – Prime Minister Nguyen Xuan Phuc hailed Hoa Binh province for its convenient location adjacent to Hanoi and big market during a working session with the provincial authorities on January 10. He proposed the locality develop to the east to tap the market there.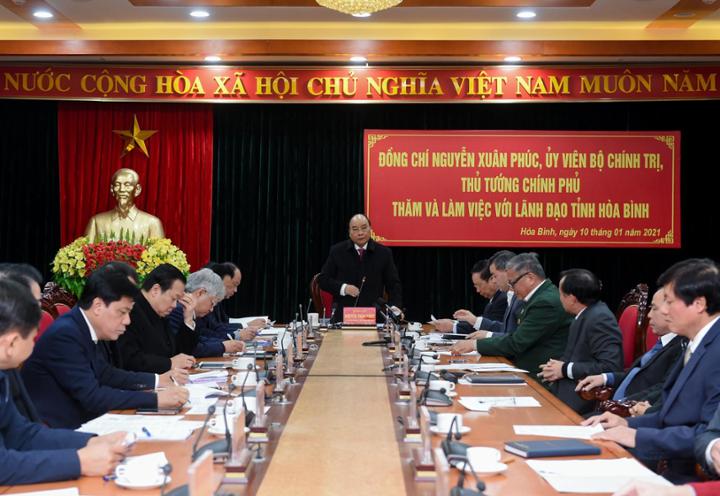 PM Nguyen Xuan Phuc holds a working session with local leaders.
As an area of strategic importance, Hoa Binh serves as a gateway to the northwest of the nation. With a convenient transportation system, it only takes around one hour to travel from Hanoi to Hoa Binh. Hoa Binh is one of the eight provinces in the planning of Belt Road 5 in Hanoi Capital Region. The waterway transportation system with Da River passes through 151km of the province with major seaports such as Bich Ha, Ba Cap, Thung Nai and Binh Thanh.
Hoa Binh holds the potential of developing agro-forestry-fisheries thanks to its rich and diverse soil and climate conditions. Its land is fertile while land for agro-forestry and unused land are extensive. Rivers, lakes and ponds are scattered across the locality.
The province is home to around 250,000ha of forestry land, about 150,000ha of them are natural forests and the remaining are planted forests, which provide an abundant supply of materials for large-scale forestry processing.
The locality holds the rich potential of developing craft villages, notably brocade weaving, bamboo and rattan products, Lac village tourist area, do paper making, ornamental rock, and can wine production facilities in Hoa Binh city.
Hoa Binh is home to a number of well-known scenic spots and 168 relic sites, 34 of them have been recognised as national relic sites. Cultural tourism is diverse with seven major ethnic groups, 74.14 percent of them are ethnic minorities and Muong ethnic group account for more than 63 percent.
Last year, the province's gross regional domestic product (GRDP) rose by an estimated 3.8 percent year-on-year, placing it the 28th out of 63 cities and provinces nationwide and the ninth out of 14 northern mountainous and midland provinces. The average GRDP per capita was estimated at 64.5 million VND as of the late 2020.
Speaking at the event, PM Phuc said products made by Hoa Binh will make further contributions to Hanoi.
The leader added that Hoa Binh has yet to tap its advantages in geographical location for rapid and sustainable socio-economic development.
In the near future, he suggested the province achieve greener, safer and more sustainable development.
"Self-resilience must be exercised in the whole Party organisation", he said, adding that not any locality could prosper without the spirit of self-resilience, including Hoa Binh. At the same time, resources for socio-economic development must be attracted.
Hoa Binh fulfilled the dual goal of fighting the pandemic and developing socio-economy, conducted synchronous planning and ensured law abidance. It is also working on the master plan on provincial development for the 2021-2030 period with a vision to 2050, improving urbanisation rate, expanding existing urban areas in combination with shopping outlets, thus creating an important driving force for local socio-economic development.
According to the PM, Hoa Binh needs to turn industry into a breakthrough for socio-economic development, outline a green industrial development strategy, continue with measures to strongly improve business environment, promptly remove obstacles to facilitate the progress of projects.
On the construction of expanded Hoa Binh hydropower plant, the leader reiterated the need to ensure its safety.
With favourable geographical location and natural conditions, rich and diverse cultural features, the PM expressed his belief that Hoa Binh will continue upholding the glorious tradition of a land rich in revolutionary tradition, build on its past achievements and staying united to ride through challenges for the sake of more rapid and sustainable development./.