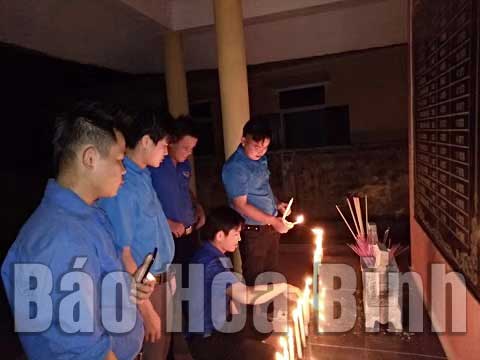 (HBO) - As one of four important revolutionary bases of Hoa Binh province in the resistance war against French colonialists, Muong Diem revolutionary base (now in Da Bac District's Trung Thanh commune) with the main task of building and training revolutionary armed forces, has made important contributions to the victory of the uprising to seize power in August 1945 of the local army and people.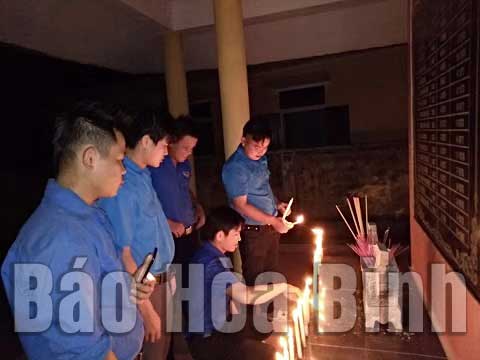 Photo: Youth Union members in Trung Thanh commune, Da Bac district, light a candle to pay tribute to war heroes and martyrs at the memorial stele for them on the occasion of War Invalids and Martyrs Day (July 27, 2021).
Inheriting the tradition of older generations and promoting the revolutionary spirit in the "Doi moi" (Renewal) period, the Party Organisation and people of Trung Thanh commune have striven to overcome difficulties and build an increasingly innovative homeland. The average growth rate of production value in 2015 - 2020 reached 4.86 percent, slightly higher than the set target of 4.7 percent per year and its economic restructuring was in the right direction in the period.
In addition to focusing on economic development, attention has been paid to other fields including culture, communications and sports. Positive changes have been recognised in the movement of all people to unite to build a cultural life associated with new-style rural building.
Eighty-five percent of villages, agencies and schools met cultural standards by the end of last year. Social security and sustainable poverty reduction were implemented in a timely and effective manner.
The commune has organised training courses on science and technology transfer for 119 learners, basically creating jobs for over 250 workers over the past five years. All poor and near-poor households get loans from the Vietnam Bank for Social Policy.
The revolutionary base has now got a new appearance with solid houses built with the smell of new paint. People actively take part in emulation movements aiming at raising labour productivity, effectively exploit and promote strengths in forestry and fisheries to increase their incomes.
Up to now, the commune has fulfilled 12 out of 19 criteria for new-style rural building; 98 percent of local households have access to the national grid and all hamlets have cultural houses to serve the community's common activities. Social security and order have been ensured.
Dinh Ngoc Bay, Secretary of the Party Committee of Trung Thanh commune, said that despite facing many difficulties, under the direction of the Party and State, and the support of administrations at all levels and sectors, the commune's authorities and people have made great efforts in many fields over the past five years.
As many as 14 out of 17 targets set by the congress's resolution have been achieved or even exceeded. Cultural institutions have been upgrade while infrastructure has gradually been completed. The per capita income reaches 18 million VND (784 USD) per year. This year, implementing the One Commune One Product (OCOP) programme, the commune directed Nam Phuong Cooperative to speed up the recognition of Shan Tuyet tea as a OCOP product. It will also submit dossiers for Trung Thuong hamlet for consideration as the new-style rural area at the same time./.