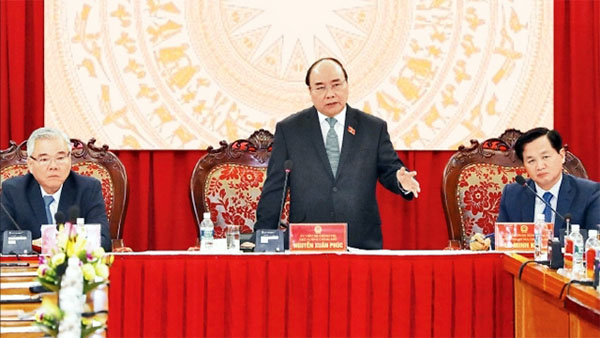 PM Nguyen Xuan Phuc speaks at the session. (Photo: VNA)
Prime Minister Nguyen Xuan Phuc made this statement while working with the GI in Hanoi on November 1.
Speaking at session, PM Phuc highlighted the sector's achievement over the past while, praising its efforts, the performance of its functions and its great contributions to enhancing State management across a wide range of fields.
The Government leader emphasised that the GI is not only an important organ of the State apparatus but also a demonstration of the people's confidence, especially in the context of the anti-corruption campaign being intensified.
The Prime Minister suggested that the GI should concentrate on evaluating, summing up and advising the Party and the State, especially grassroots party committees, on the causes and roots of the current petition situation in order to take concrete and timely measures to rectify the work of settling complaints and denunciations.
Complaints and denunciations mostly relate to land and corruption issues, while a number of civil servants were not willing to share the difficulties with people, he said, adding that the GI must act as a leading agency and a core force in the reception of citizens, and the settlement of complaints and denunciations.
He also urged the sector to further strengthen the role of the GI in order to improve the efficiency of State management and effectively prevent and fight against corruption.