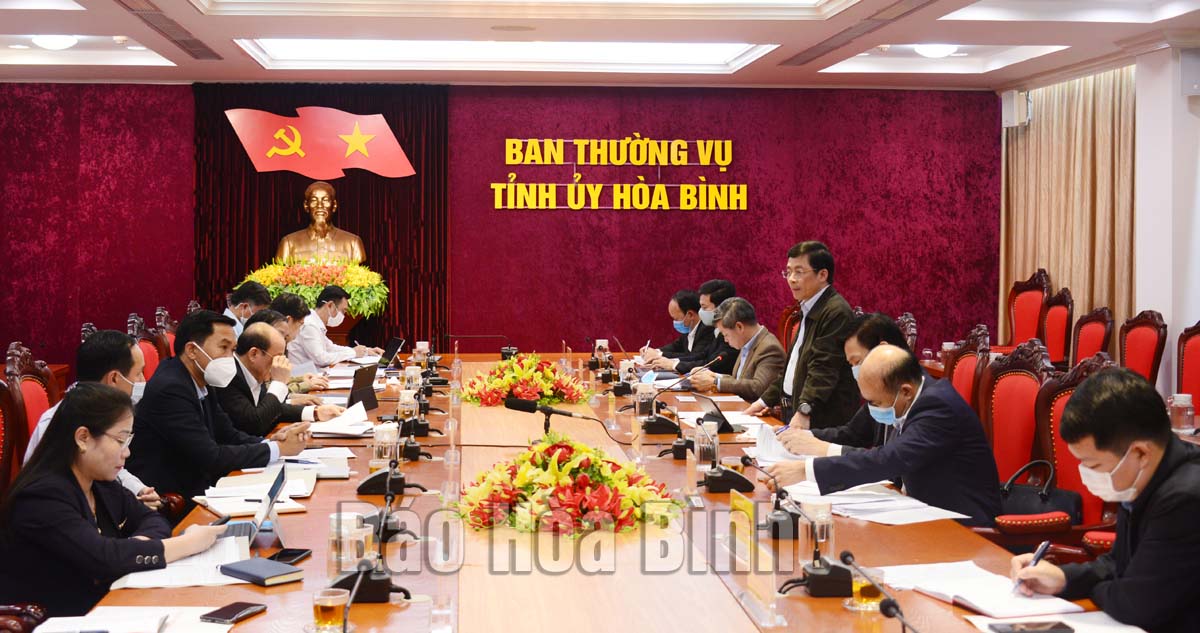 (HBO) – A delegation of the Party Central Committee's Economic Commission, led by Vice Chairman Nguyen Duy Hung, had a working session with leaders of Hoa Binh province on October 29 to look into the implementation of Resolution No. 26-NQ/TW on agriculture, farmers, and rural areas, issued by the 10th-tenure Party Central Committee.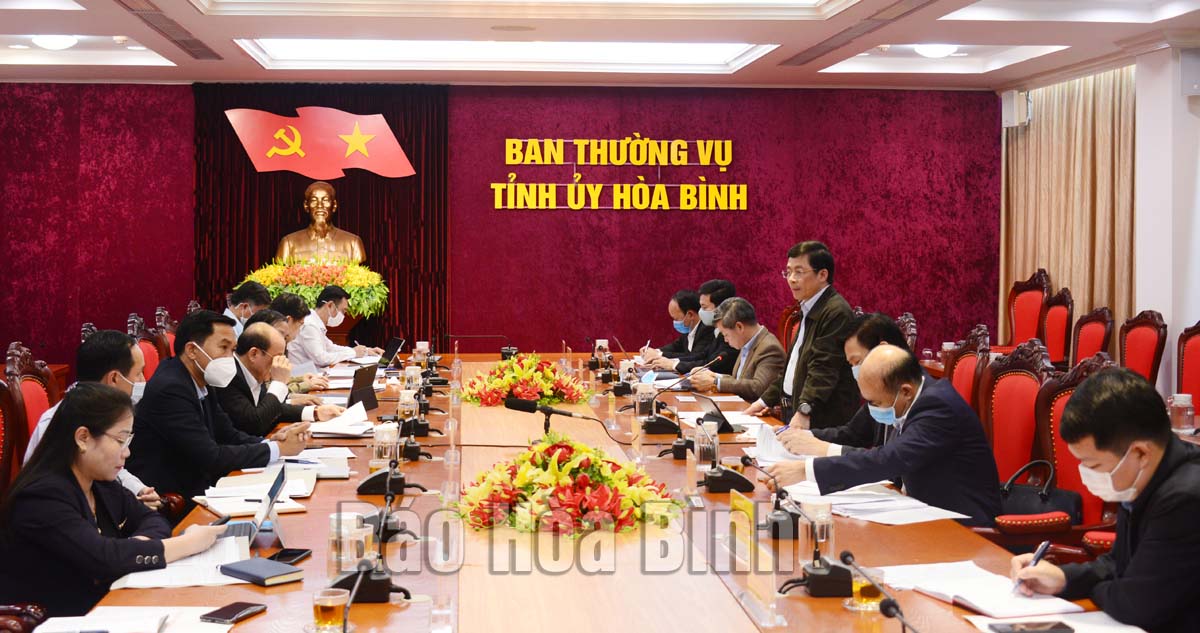 Vice Chairman of the Party Central Committee's Economic Commission Nguyen Duy Hung addresses the meeting.
Hoa Binh province issued a resolution and an action plan for the resolution's implementation and has obtained significant results.
The agro-forestry-fishery sector has grown by 4.02 percent on average and by 3.98 percent during 2016 - 2020, almost doubling the national average, which has made Hoa Binh one of the best performers in this regard in the northern mountainous region.
Among outstanding results of new-style countryside building efforts, 55 of the 129 communes and three of the 10 district-level localities in the province have been recognised as new-style rural areas. Meanwhile, 12 communes have met advanced new-style countryside criteria, and 46 residential areas been named role models. The average annual per capita income in rural areas has increased by about 2.5 million VND to 34.5 million VND (1,500 USD) in 2020, rising nine-fold from 2008. The household poverty rate in rural areas is expected to drop to 6.6 percent this year.
However, local officials said, there remain numerous difficulties in production connection, science - technology application, brand building, and product advertising. The production scale is still small, local income low, and the household poverty rate high despite a decrease.
Hoa Binh proposed central agencies issue special mechanisms for disadvantaged areas so as to concurrently guarantee security - defence, boost socio-economic development, and promote livelihoods for local residents. It also called for incentives and support for investment in agricultural and rural development, facilitation of collectives and individuals' access to concessional loans to fund farm produce processing and preservation so as to improve product quality and value, and more resources for developing infrastructure and improving livelihoods in ethnic minority-inhabited areas.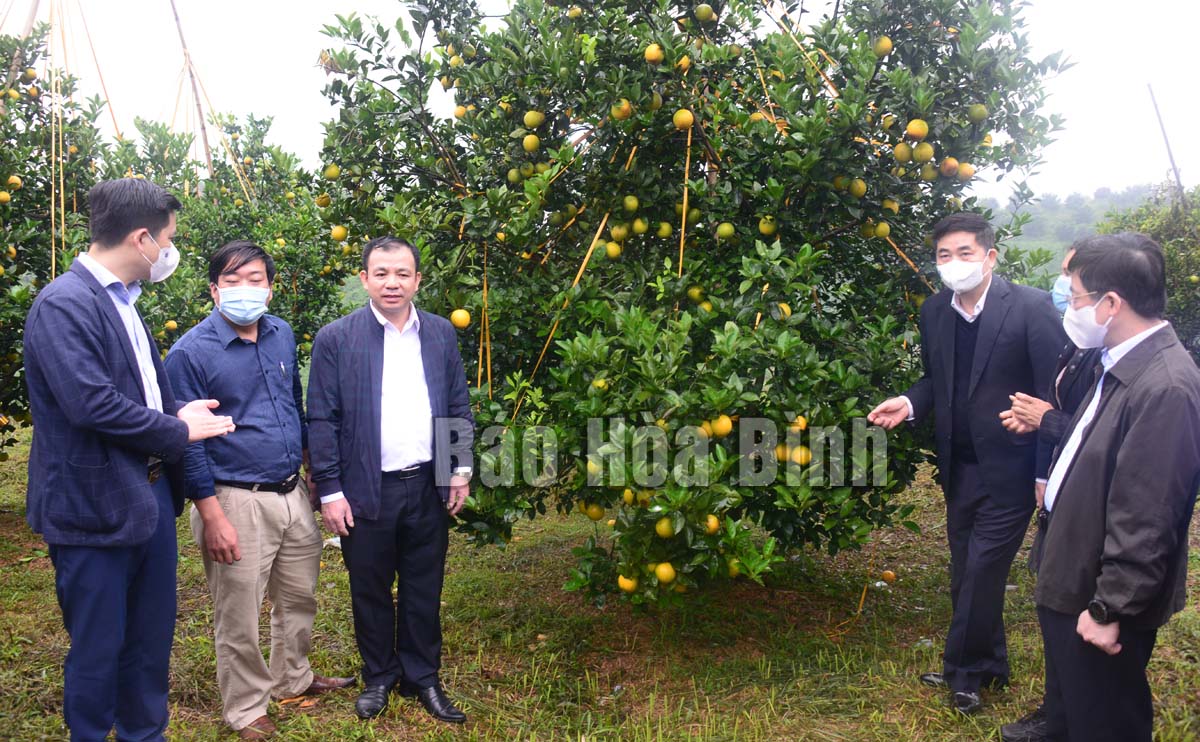 The delegation of the Party Central Committee's Economic Commission visits an orange farm in Bac Phong commune of Cao Phong district.
Speaking at the event, Bui Duc Hinh, Standing Vice Secretary of the provincial Party Committee and Chairman of the provincial People's Council, provided more information about the achievements, difficulties, and advantages in the resolution implementation in Hoa Binh.
He expressed his hope that the Economic Commission will assist the province in effectively carrying out agricultural and rural development orientations for the time ahead.
Vice Chairman of the commission Nguyen Duy Hung recognised the province's attainments in realising Resolution No. 26-NQ/TW, noting that the delegation's working visit aimed to record achievements, causes of shortcomings, and experience in the resolution implementation so as to help the Party Central Committee issue a new resolution for promoting rural development in the time to come.
Earlier, the delegation had made a fact-finding tour of orange farming in Bac Phong commune and had a working session on new-style countryside building with Tay Phong commune of Cao Phong district./.