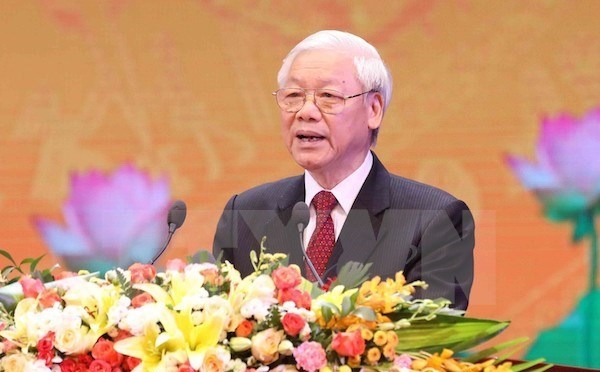 CPV General Secretary Nguyen Phu Trong speaks at the ceremony (Photo: VNA)
The event saw the attendance of the General Secretary of the Communist Party of Vietnam (CPV) Nguyen PhuTrong, former CPV General Secretary NongDucManh, President Tran Dai Quang, former President Truong Tan Sang, Prime Minister Nguyen XuanPhuc, National Assembly Chairwoman Nguyen Thi Kim Ngan and former NA Chairman Nguyen Sinh Hung, among others.
In his speech delivered at the ceremony, CPV General Secretary Nguyen PhuTrong stressed the significance of the revolution, which, he said, has opened up a new period in the history of humankind.
All victories of the Vietnamese revolution have been linked with impacts of the Russian October Revolution as well as the wholehearted support and assistance of the people of the former Soviet Union, he said.
Vietnam's great achievements over the past 30 years of reform were the results of the creative application of Marxism-Leninism and Ho Chi Minh Thought, the Party leader stressed, describing such attainments as evidence of the vitality of socialism in Vietnam.
He called for more efforts to build a strong and pure Party, along with improving the growth quality, protecting national independence, sovereignty, unification and territorial integrity, expanding foreign relations, and taking care of people's material and spiritual lives.
The Party chief expressed his firm belief that with the spirit of the Russian October Revolution and Vietnam's August Revolution, the people's confidence in the CPV and joint endeavours, Vietnam will become a strong country with wealthy, democracy, equality and civilisation.
Also on November 5, a high-ranking delegation of the CPV Central Committee, National Assembly, President, Government, Vietnam Fatherland Front Central Committee and Hanoi laid wreaths in tribute to V.I. Lenin at his statute in the capital city.