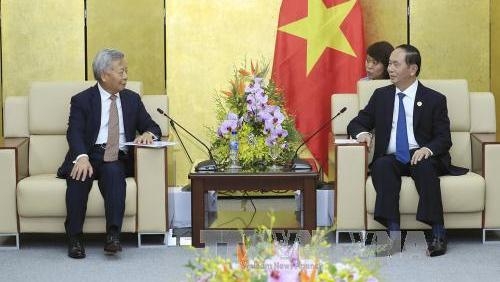 President Tran Dai Quang (R) and AIIB President Jin Liqun
At the meeting in Da Nang city on November 9, President Quang welcomed Jin's active participation in the APEC CEO Summit while hailing AIIB's performance over the two years since its inception.
As one of the first countries to support the establishment of AIIB, Vietnam wants AIIB to become a prestigious and effective development bank of the region so as to meet member countries' interests, he noted.
He affirmed that Vietnam would continue engaging in AIIB as a reliable and responsible partner by fulfilling all obligations of a member country, and also hopes for more assistance from the lender.
The country has demand for capital regarding infrastructure development and upgrade, and AIIB is one of the potential capital sources, President Quang said, asking the bank to work with relevant agencies of Vietnam to specify suitable funding mechanisms and methods.
AIIB President Jin said President Quang's impressive speech at the APEC CEO Summit inspired businesses to increase investment and business activities in Vietnam. He also highly valued Vietnam's active contribution to his bank's foundation and activities.
As Vietnam boasts huge developmental potential, infrastructure investment for socio-economic development is still an important strategy of the country. AIIB pledges to help the country access its capital sources to meet this demand, Jin added.
The AIIB leader was in Da Nang to attend activities of the APEC CEO Summit, part of the APEC Economic Leaders' Week from November 6 to 11.