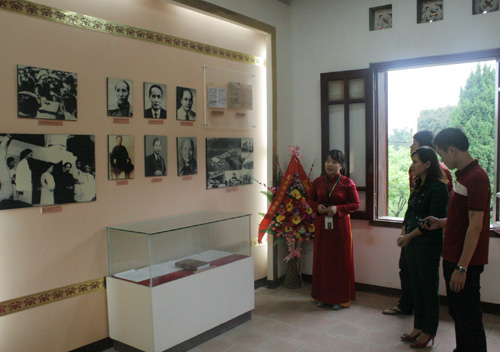 (HBO) – At Chi Ne plantation relic site where North Vietnam's first money-printing factory was based during the war, we offered incense to a memorial dedicated to late President Ho Chi Minh, who visited the site twice.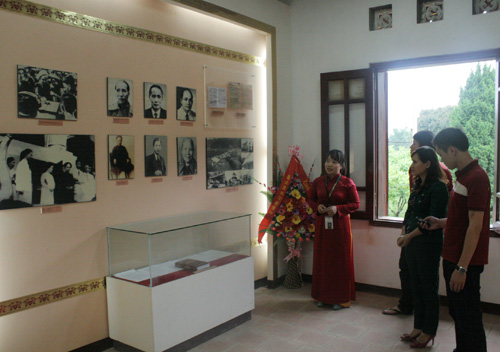 Photo caption: Tourists visit the money-printing factory - a relic site built by Vietnam's revolutionary government.
In 1946, the Government, President Ho Chi Minh and Finance Ministry decided to choose Chi Ne plantation (now located in Co Nghia commune) owned by Do Dinh Thien as a money-printing factory of the Democratic Republic of Vietnam. For the first time, banknotes of the Democratic Republic of Vietnam were printed and circulated nationwide thanks to the factory's staff. Thien was a patriotic capitalist who donated his family's legacy to the fight for national independence and freedom. Chi Ne plantation was also a place where Party and State high-ranking officials stopped for a short while, including President Ho on February 19 and February 21, 1947 during his working trip to the central province of Thanh Hoa.
Accompanied by Finance Minister Le Van Hien and Director of the factory Pham Quang Chuc, the leader talked with officials, workers and guards of the factory.
Dinh Thi Binh, deputy head of the district's relic site management board, said the factory was classified as a national relic site by the Ministry of Culture, Sports and Tourism in 2007. Work started on the relic site in 2010 covering 15.5 hectares with a view to restoring the money-printing factory.
The site is currently divided into three major areas, including a memorial dedicated to President Ho Chi Minh which welcomes numerous visitors during holidays, a money-printing factory (1946-1947) with two rows of artifacts and a banknote warehouse.
The factory was also named in the Guinness Vietnam records as the first of its kind in the country./.