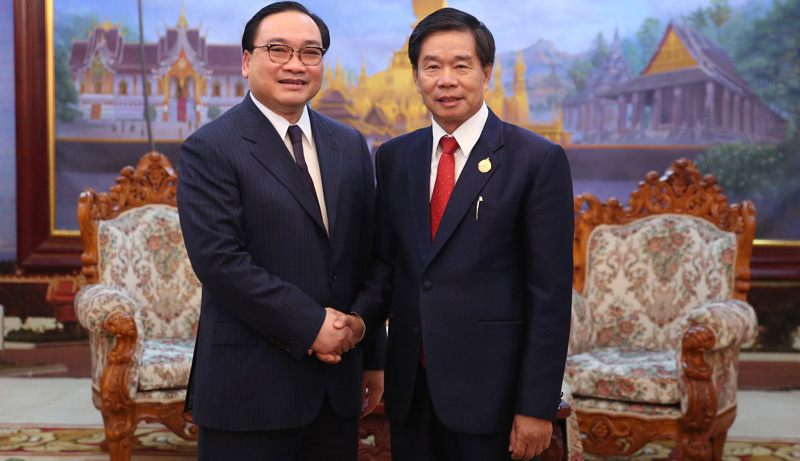 Secretary of the Hanoi municipal Party Committee Hoang Trung Hai and Secretary of the Party Committee and Mayor of Vientiane Sinlavong Khutphaythoune
During his talks with Secretary of the Party Committee and Mayor of Vientiane Sinlavong Khutphaythoune in the Lao capital on November 25, Hai said that it was the first time high-ranking delegations of the two cities have paid mutual visits in a year.
Khutphaythoune hailed Hai's visit which took place as the two countries are celebrating the 55th anniversary of diplomatic ties and the 40th anniversary of the signing of the Vietnam-Laos Treaty of Amity and Cooperation.
They noted with satisfaction the bilateral comprehensive links over the past years with a number of effective projects, adding that Hanoi assisted Vientiane in building the Vientiane Politics – Public Administration School and the traditional house of the Vientiane Military Command, as well as launching joint agriculture projects.
The two officials expressed their wish to continue stepping up cooperative activities in different areas.
The two sides signed a Memorandum of Understanding on cooperation for the 2017-2020 period, under which the two cities will continue the exchange of visits by high-ranking delegations and strengthen coordination between departments and agencies. Hanoi will help Vientiane with administrative management and technological application in State administrative agencies.
The cities agreed to boost trade and exports and consider a project to build Hanoi trade and tourism centre in Vientiane and a similar one of Vientiane in Hanoi.
The two officials vowed to strengthen the traditional friendship, special solidarity and comprehensive partnership between Vietnam and Laos.
On the occasion, the Vietnamese delegation presented 20 sets of computers to the municipal Party Committee and administration of Vientiane.