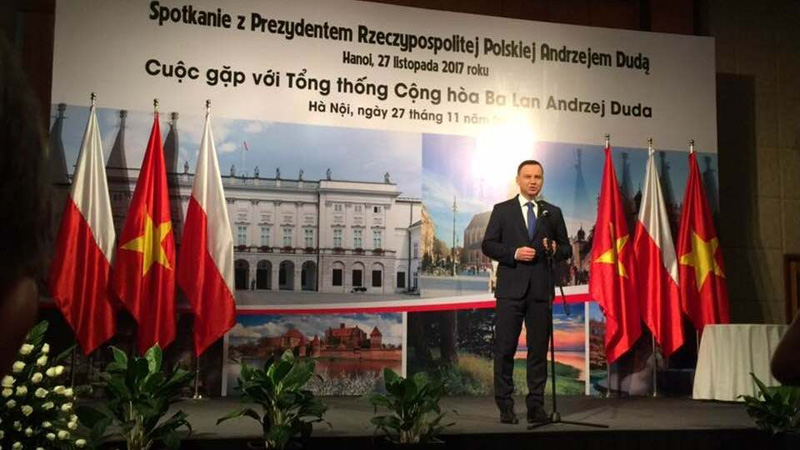 Polish President Andrzej Duda speaks at the meeting
Addressing the event, President Andrzej Duda said former Vietnamese students in Poland play a significant role in the Vietnam – Poland traditional friendship, describing them as Poland's ambassadors to Vietnam, who help introduce Polish knowledge and culture to Vietnamese people.
Currently, there are 300 Vietnamese students in Poland, he said, expressing his hope that the figure will increase in the coming time.
The President stressed that his visit aims to foster the friendship and cooperative ties between the two nations.
He hopes that more Vietnamese students will learn the Polish language and more Polish literary works will be translated into Vietnamese.
President of the Vietnam – Poland Friendship Association Pham Khoi Nguyen highlighted the capability and skills of those who received training in Poland thanks to the European country's high-quality education system.
He also expressed the delight of formers Vietnamese students in Poland over the socio-economic achievements Polish people have gained over the past years.
He hoped that the Polish President's visit will help consolidate the friendship and comprehensive cooperation in all fields between the two nations, fulfilling their traditional friendship and huge cooperation potential.
On the occasion, a number of Vietnamese individuals were honoured with Poland's decorations for their outstanding contribution to the Vietnam – Poland friendship and cultural exchanges.
The Polish President Andrzej Duda also presented Poland's national flag to the Vietnam – Poland Friendship Association.