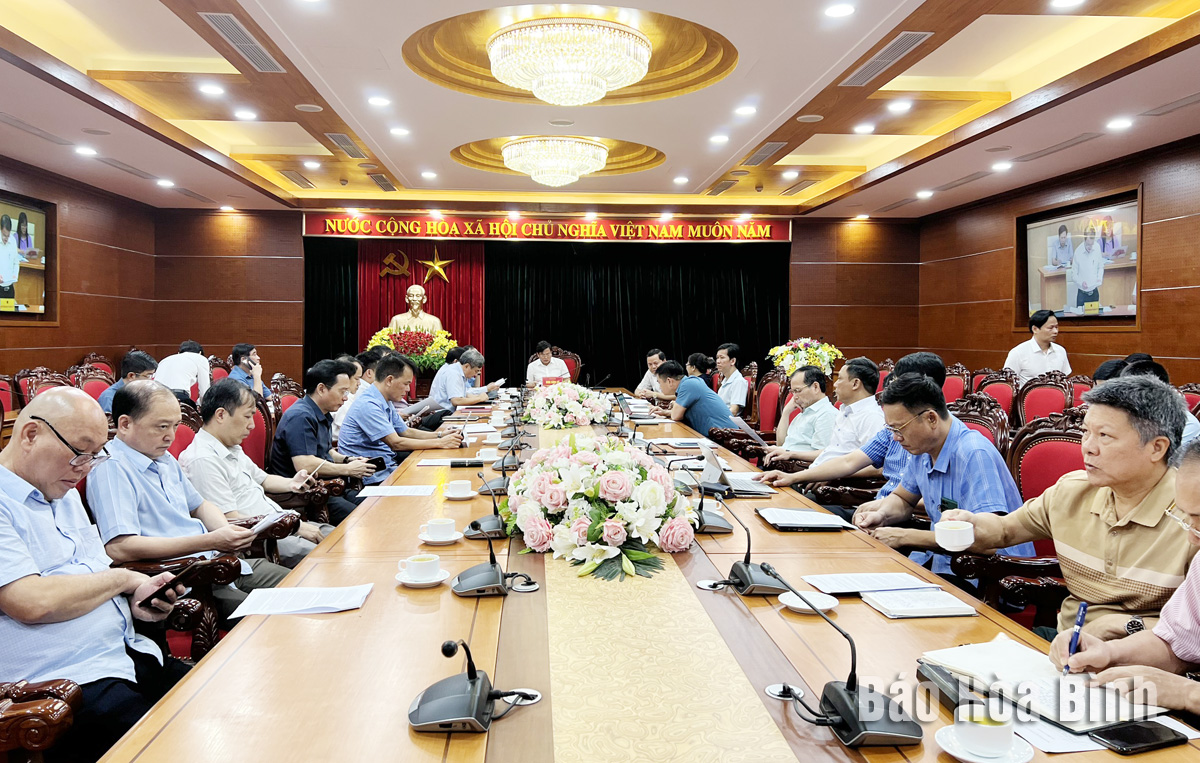 (HBO) – Deputy Prime Minister Tran Luu Quang, head of the Central Steering Committee for National Target Programmes in the 2021-2025 period, on August 28 chaired the fourth meeting between the committee and localities. joining the online meeting from Hoa Binh were Vice Chairman of the provincial People's Committee Dinh Cong Su, and leaders of departments, sectors, agencies as well as localities of Hoa Binh and members of the provincial Steering Committee for the programmes.
Hoa Binh's delegates at the meeting.
The PM has approved over 102 trillion VND (4.22 billion USD) from the mid-term public investment plan sourced from the central budget in the 2021-2025 period for the implementation of the national target programmes on new-style rural area building, socio-economic development in mountainous and ethnic minority-inhabited areas, and sustainable poverty reduction.
Between 2021 and 2023, more than 83 trillion VND sourced from the State budget has been allocated to ministries, centrally-run agencies and localities to put the programmes in place. More than 16 trillion VND had been disbursed so far this year, fulfilling 47.81% of the yearly plan.
Participants pointed to difficulties and obstacles in the disbursement of capital for the programmes, and proposed solutions. They suggested that ministries, sectors and central agencies give early notice on the tentative capital plan for the 2024-2025 period, while rolling out suitable mechanisms for localities that are unable to prepare resources for the implementation of the programmes, especially mountainous and difficult localities.
Addressing the meeting, Deputy PM Quang urged ministries, agencies and localities to promote the role of the Party Committees and administrations at all levels in directing, managing, inspecting and speeding up the implementation of the programmes. They were requested to roll out communications measures to popularise the Party and State's policies and laws regarding the management and implementation of the programmes.
At the same time, it is necessary to continue reviewing and completing institutions and policies, ensuring the balance of resources from the State budget, while strengthening the combination of capital from programmes and projects with the same purposes, avoiding overlapping, the Deputy PM underlined.
He also asked localities to actively build their own plans and complete their tasks in allocating annual capital for the programmes right after receiving capital estimates and plans from authorised agencies.