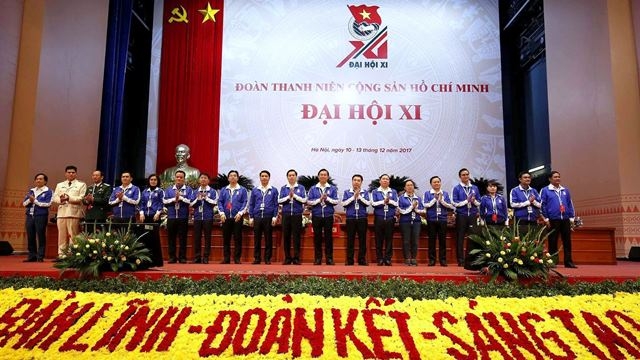 The first session of the HCMCYU 11th National Congress kicks off in Hanoi on December 10. (Credit: VGP)
The event saw the participation of nearly 1,000 outstanding young people, representing over 6.4 million union members and nearly 24 million Vietnamese youth, both domestic and abroad.
Addressing the session, First Secretary of the HCMCYU Central Committee Le Quoc Phong described the congress as an important political event and a festival for Vietnamese youths.
The congress is reviewing the youth union's activities during 2012-2017 and setting out targets, tasks, and solutions for the next five years. It will also amend and supplement regulations of the HCMCYU and elect a new central committee for the 11th tenure, Phong added.
Earlier Sunday, delegates paid tribute to President Ho Chi Minh at his mausoleum in Hanoi and laid wreaths and offered incense at the Heroic Martyrs Monument on Bac Son street.
Also that morning, a photo exhibition on the development of HCMCYU in past years opened with more than 500 documents and images featuring historical periods and the past ten congresses.
In the afternoon, HCMCYU delegates held discussions with the ministers at eight forums, focusing on startups, employment, environmental protection, promotion of national cultural identity, and the role of youth in science, technology and innovation.
The HCMCYU's national congress will officially open in the capital city on the morning of December 11, which will be the second session of the event. With eight forums and 20 group discussions, the congress will last until December 13.