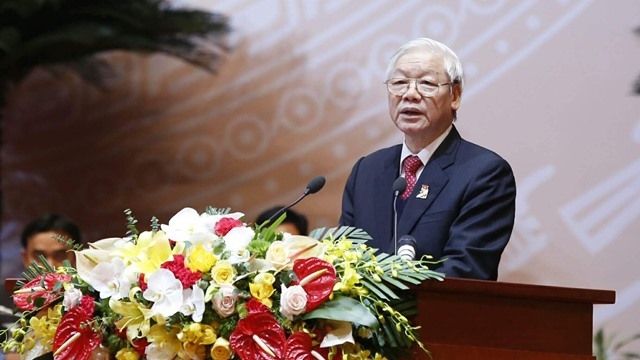 Party General Secretary Nguyen Phu Trong addresses the opening session of the Ho Chi Minh Communist Youth Union's 11th National Congress of, Hanoi, December 11. (Credit: VGP)
The Party chief delivered her speech at the opening of the Ho Chi Minh Communist Youth Union (HCMCYU)'s 11th National Congress in Hanoi on December 11, drawing nearly 1,000 delegates representing the millions of union members nationwide.
In his keynote speech, Party General Secretary Trong praised the accomplishments of youth and children's movements as well as union operation at all levels.
Showing his strong trust in youth, the Party chief suggested that in future, the union should pay greater attention to educating the youth on revolutionary ideals, political firmness, morality, and lifestyle.
The union should encourage and promote patriotism, revolutionary ideals, and trust in the political regime among youngsters, he said. At the same time, he also asked the union to improve youngsters' awareness about wrong information and arguments of hostile forces, especially via social networks.
The HCMCYU should uphold its central role in the country's youth organisations, while guiding the Ho Chi Minh Vanguard Children Union and working hard to protect and educate children, he said.
The Party leader also requested that the union build the necessary mechanisms, policies, and activities to foster the development of young people in all fields, across social and economic aspects.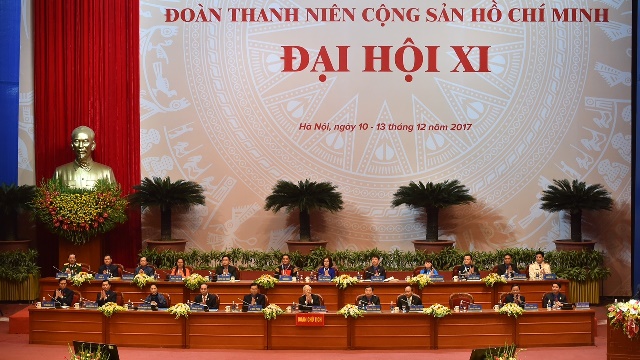 Party and State leaders attend the opening ceremony of the Ho Chi Minh Communist Youth Union's 11th National Congress, Hanoi, December 11. (Credit: VGP)
Speaking at the event, Nguyen Phi Long, Secretary of the HCMCYU's 10th Central Committee and President of the Vietnam Youth Federation said that the congress will review and draw lessons during the implementation of the 10th Congress's resolution in the past five years, and set targets for the 2017-2022 period. The Congress will also make adjustments to the union's Charter.
He reported that youth and children's movements were successful over the past five years, with 455,000 works built and over 2,200 projects launched in various fields, bringing about high socio-economic results. Voluntary and charity activities of the union drew 16 million participants nationwide, he added.
He said that in the 2017-2022 period, the union will focus on fostering young generations with revolutionary ideals, a strong political will, and patriotism, as well as with good health, good knowledge and the aspiration for a better life and better world.
He drafted 11 major targets in operation of the union for the next five years, including giving 5 million innovative ideas, planting 30 million trees, providing VND10 trillion as loans for youngsters to boost production, and supporting 1,000 startup projects.
The union also plans to give career consultations to ten million youngsters, introduce jobs to 1.5 million others, and admit five million more members.
The HCMCYU's 11th National Congress will last until December 13.