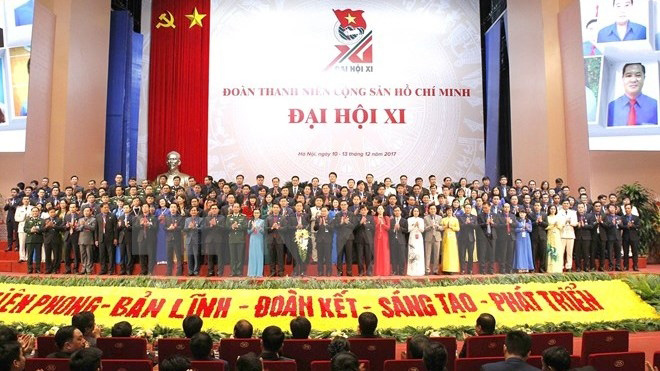 The 11th HCYU Central Committee comprises of 151 members. (Photo: VNA)
Le Quoc Phong, First Secretary of the 10th Central Committee of the Ho Chi Minh Communist Youth Union (HCYU) for 2012-2017 was re-elected as First Secretary of the 11th HCYU Central Committee for the 2017-2022 tenure.
Nguyen Anh Tuan, Nguyen Ngoc Luong and Bui Quang Huy were also re-elected as Secretaries of the 11th HCYU Central Committee.
The 11th HCYU Central Committee comprised of 151 members and the delegates also elected the 31-member Standing Committee, the four-member Secretariat and the 19-member Inspection Commission of the 11th HCYU Central Committee.
Addressing the closing session of the congress, Prime Minister Nguyen Xuan Phuc lauded the accomplishments gained by the youth and children's movements, as well as the operations of the HCYU at all levels.
The Government leader urged youngsters to become pioneers in all sectors, from socio-economic development to national defence.
It is necessary to implement mechanisms and policies, especially at the Governmental level, to promote a start-up spirit among youths, he added, calling on young people to contribute further to the nationwide start-up campaign, which aims to establish 500,000 enterprises by 2020 and eventually raise the total number to over one million.
PM Phuc also pointed out a number of difficulties and challenges facing the country, especially natural disasters, plus threats of peaceful evolution, corruption and other social bad deeds.
The union should encourage and promote patriotism, revolutionary ideasl and trust in the political regime among the younger generation, he said.
The PM also requested that a regular working mechanism is established between the Government, the HCYU Central Committee and all-level authorities in order to collect more opinions from youth, as well as urging the union to build mechanisms, policies and activities to foster the development of young people in all fields, across social and economic aspects.
During the session, Deputy PM Vu Duc Dam and First Secretary of the 11th HCYU Central Committee Le Quoc Phong signed a joint Resolution on the cooperation mechanism between the Government and the HCYU Central Committee during 2017-2022.
The delegates then approved a resolution of the 11th National Congress of the HCYU Central Committee, which sets forth the major objectives, tasks and projects for the union over the next five years.