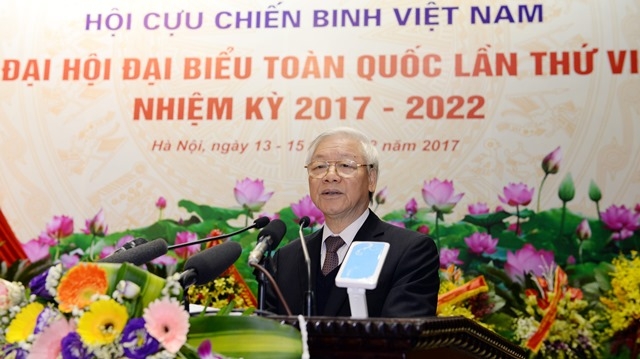 Party General Secretary Nguyen Phu Trong addresses the sixth National Congress of the Vietnam War Veterans' Association. (Credit: qdnd.vn)
He made the compliment at the sixth National Congress of the Vietnam War Veterans' Association (VWVA) for the 2017-2022 tenure, which officially opened in Hanoi on December 14. The event was also attended by President Tran Dai Quang, Prime Minister Nguyen Xuan Phuc, and Chairwoman of the National Assembly Nguyen Thi Kim Ngan.
The Party chief stressed that, as an association of those who have stood the test of revolutionary and resistance wars, the VWVA must continue implementing its most important task of resolutely protecting the fruits of the revolution, whilst helping to defeat hostile forces' schemes, and actively participating in building and protecting the Party, the State, people, and the socialist regime.
General Secretary Trong asked the association to actively join the fight against corruption, wastefulness, and negative phenomena, as well as in the efforts to build a clean and strong Party and administration.
The veterans, with their political zeal and experience, should work to educate the younger generations in tradition and revolutionary heroism, while setting good examples for their families and descendants to follow, he said.
VWVA President Senior Lieutenant General Nguyen Van Duoc said in his opening speech that in the 2012-2017 period, the association has gained significant achievements in implementing the Resolution of the fifth congress.
The association has seen steady growth in terms of members and performance, Duoc said, affirming that it has become a prestigious socio-political organisation and an active member of the Vietnam Fatherland Front.
Besides its political tasks, the association has also encouraged its members to engage in economic activities. Veteran-run enterprises and cooperatives have created jobs for 703,000 veterans, their children, and beneficiary families.
Heads of the Cambodian and Lao delegations of war veterans spoke highly of the achievements the VWVA has made over the past tenure, expressing their hope that the association would continue thriving, contributing to fostering the friendship, solidarity and cooperation between the VWVA and its Lao and Cambodian counterparts.