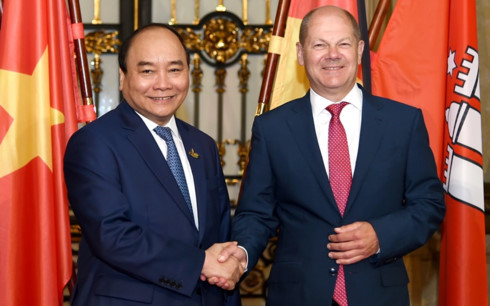 Prime Minister Nguyen Xuan Phuc has affirmed Vietnam's readiness to further enhance ties with Germany's Hamburg state in of science-technology, logistics and shipping-seaports.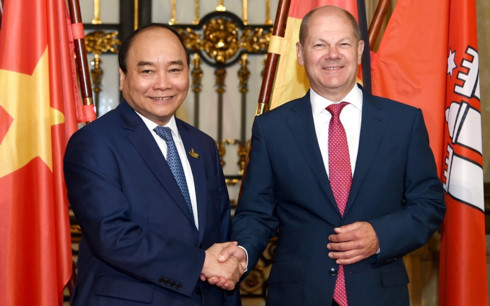 Meeting with First Mayor of Hamburg Olaf Scholz on July 7 as part of his activities during the German tour, the PM asked Hamburg to step up cooperation in seaport management, planning and development with port cities of Vietnam, including Danang, Hai Phong and Ho Chi Minh City.
He suggested the state encourages its businesses to invest in Vietnam, especially in areas of their strength such as shipbuilding, petrochemistry, aviation-aerospace, electronics, precision mechanics, chemicals and optical equipment.
Mayor Scholz for his part, expressed his delight at progress in the strategic partnership between the two countries in broad range of fields, particularly in trade and investment.
Hamburg is home to the second largest system of seaports in Europe and the third largest in the world, where around 145 million tonnes of cargo are transited each year.

The state is also a major gateway for Vietnamese goods to enter Germany and Europe, Scholz said, adding that the number of containers from and to Vietnamthrough the Hamburgport has grown 50% over recent years.
The Mayor hailed contributions by the Vietnamese community in Hamburg to foster friendship and trade-investment ties between Hamburg and Vietnam.
He also praised PM Phuc's proposals on stronger collaboration between the two sides aiming to realize initiatives in the time to come.
Source: VOV