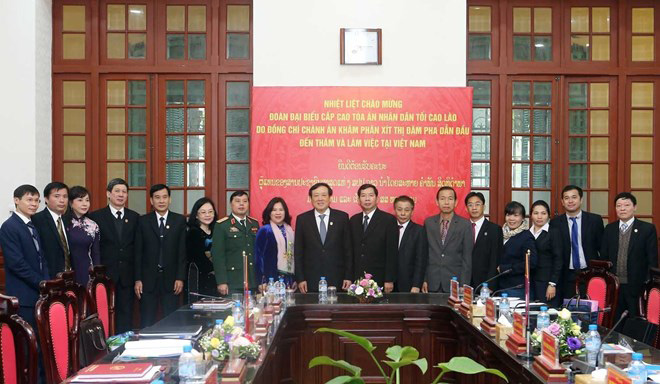 Chief Judge of the Supreme People's Court of Vietnam Nguyen Hoa Binh held talks with his Lao counterpart Khamphanxit Thidampha in Hanoi on January 4, during which he said the two nations' courts, especially provincial courts, should continue exchanging delegations and organising seminars to share trial experiences.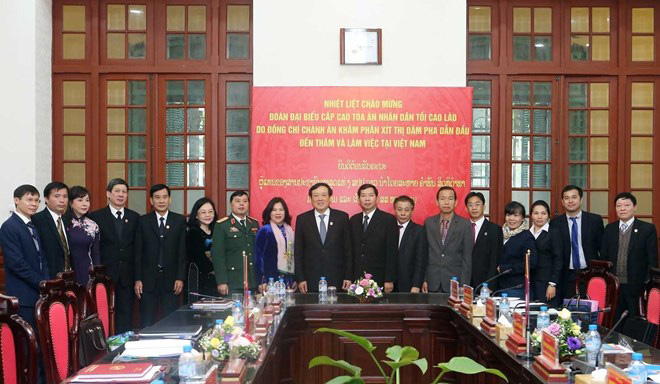 Officials of the supreme courts of Vietnam and Laos pose for a photo at talks on January 4 (Photo: VNA)
Binh highlighted the traditional cooperation between the courts of Vietnam and Laos, including the exchange of working delegations, sharing of trial experiences and training of judges.

The courts are coordinating to develop a project on supporting the Supreme People's Court of Laos to establish administrative courts in people's courts, he said, adding that the project is expected to be approved in 2018.

Thidampha said the people's courts of Laos want to share and learn from judicial experiences and enhance cooperation with Vietnam in a bid to enhance their operation efficiency.
On behalf of Party and State leaders, Binh presented a first-class Independence Order to the Supreme People's Court of Laos as well as second- and third-class Independence Orders to its leaders.
Source: VNA