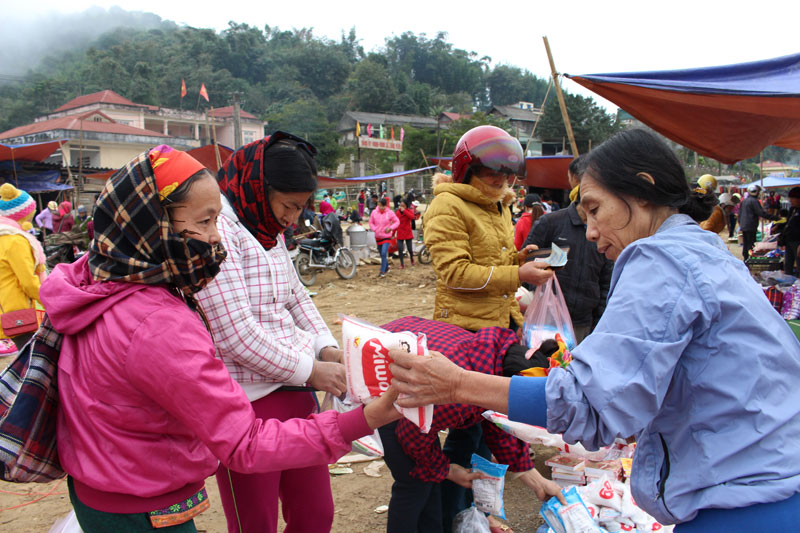 (HBO) – Colourful and thrilling are typical features of a Lunar New Year (Tet) market of people in mountainous areas. They come to the market not only to shop and trade, but also to meet friends for sipping wine together. joining people going to the market on Tuesday morning of the last week of the lunar year, we came to Lung Van Tet market in Tan Lac district.
Lung Van market opens on every Tuesday, attracting residents in Lung Van commune and surrounding areas to visit and trade.
Right from early morning, dozens of vans carrying Tet goods gathered near the People's Committee headquarters of Lung Van, unloading and arranging their goods for sale. Locals also brought various specialties of the locality. In a busy atmosphere of the market, everyone worked hard to provide commodities to locals.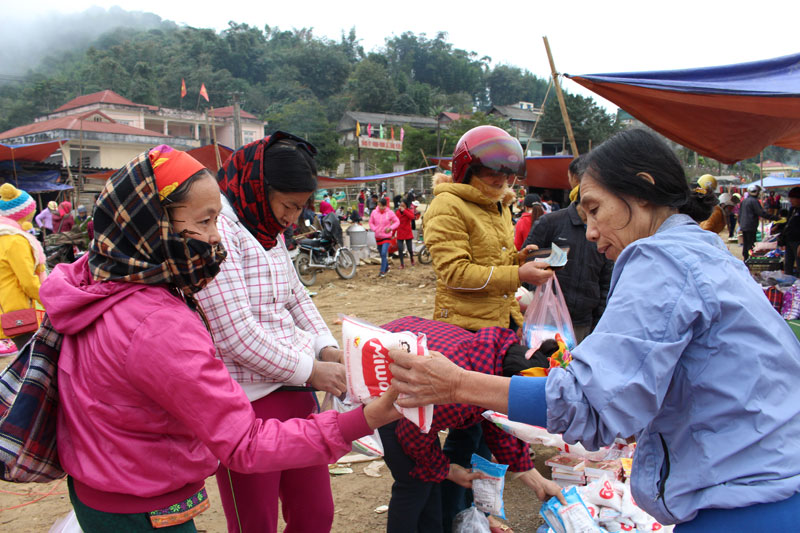 Lung Van market (Tan Lac) is crowded by people shopping for Tet
Clothes at the market had reasonable prices at about 100,000 VND a suit for children
Apart from clothes area, a space for peach blossom and kumquat trees was among the most attractive ones. Everyone chose trees with a lot of flowers, fruits and buds in a hope of bringing luck to their house in the New Year. Confectionaries, wine and beer, dry preserved fruits with diverse types, which are popular in Tet, also drew many people.
Tran Thi To from Lam Luu street of Phu Cuong commune, said "compared to previous years, demand in the market was higher. My family has sold out almost commodities such as rice, confectionaries and beers. The prices of the goods rise slightly compared to previous years, including rice at 500,000 per kilo."
In addition to popular commodities, Lung Van had special goods such as Nam Son mandarins, chayote vegetables, Quyet Chien mushrooms, cats' ear mushroom, "dong" (phrynium) leaves, bamboo string and bean.
At the same time, brocade products were also popular, with many beautiful patterns showing the unique culture of Muong people.
Especially, many locals sold their hand-made products such as bamboo baskets, knife covers.
In recent years, people often come to Lung Van market not only for shopping. Many people from nearby localities go to the market for experiencing and exploring the customs and cultural identities of local ethnic minority groups.
Ha Van Dinh from Lung Cao commune, Ba Thuoc district of neighbouring Thanh Hoa province said: "I take my family to this market every year at the year-end to shop and enjoy foods. It is very fancy to be in the market, as people here are very friendly and lovely. Along with some necessities for Tet, my family loves Nam Son mandarins for the fruit's special