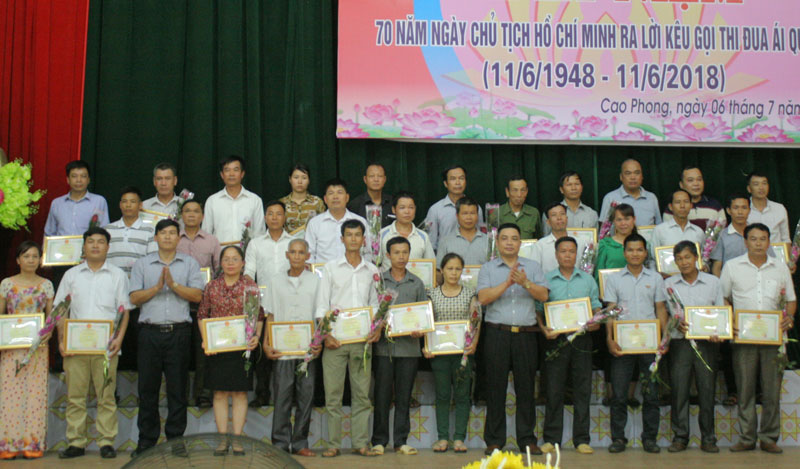 (HBO) – Cao Phong district recently organised a ceremony to mark the 70th year since the day President Ho Chi Minh issued a call for patriotic emulation (June 11).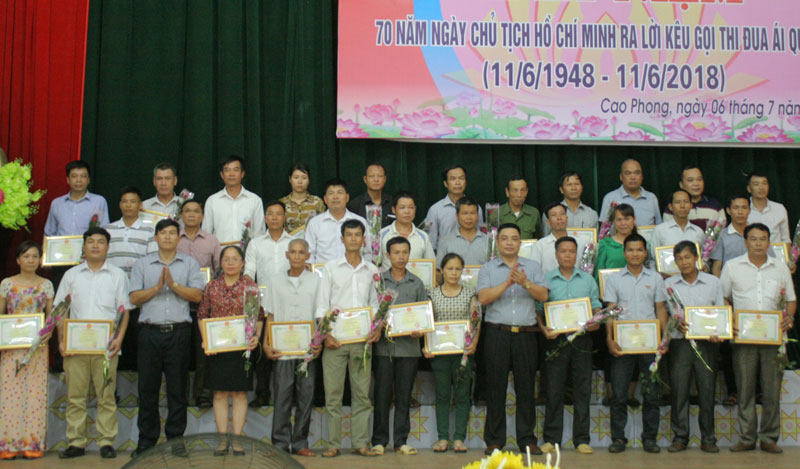 Photo: The district leaders present certificates of merit to units with excellent performance in patriotic emulation movements during 2016-2018.

Cao Phong district was established on March 15, 2002. Since then, many patriotic emulation movements have been carried out in all sectors and at all levels, creating a strong driving force for local socio-economic development across the fields.

In the past 15 years, the district records an average economic growth of 12 percent. Budget collection in 2002 reached 1.4 billion VND, which then increased 22 times to hit 30.86 billion VND in 2017.

Per capita income increased rapidly, from 3 million VND in 2002 to 41.5 million VND in 2017. The district observed radical changes in all sectors, with robust socio-cultural development while defence-security has been strengthened.

With concerted efforts, the local Party organisation, authorities, armed forces, and residents in Cao Phong district received various kinds of awards. The district has been among the top group in the province's emulation movement, and received many certificates of merit from the Chairman of the provincial People's Committee.

The district was bestowed the Labour Order, third class in 2012 and second class in 2017.

In a bid to fulfil its 2018's goals and the five-year socio-economic development plan for 2015-2020, the district has outlined various key missions to put forth the patriotic emulation movement.

On the occasion, the district presented certificates of merit to 26 units, and 159 individuals with standout achievement in various patriotic emulation campaigns during 2016-2018.

In the framework of the celebration, the district People's Committee collaborated with the provincial museum to organise an exhibition themed "President Ho Chi Minh with Hoa Binh province" on July 5-6./.