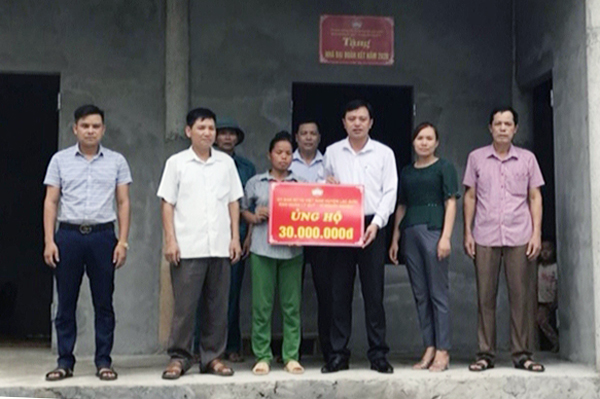 (HBO) – Since the year's beginning, the Hoa Binh provincial Committee of the Vietnam Fatherland Front (VFF) has allocated part of the province's Fund for the Poor to district-level VFF committees and its members organisations to build and repair 145 houses for low-income earners, costing 4.35 billion VND (189,000 USD) in total. Every new construction was supported with 30 million VND while each house needing repairs 20 million VND.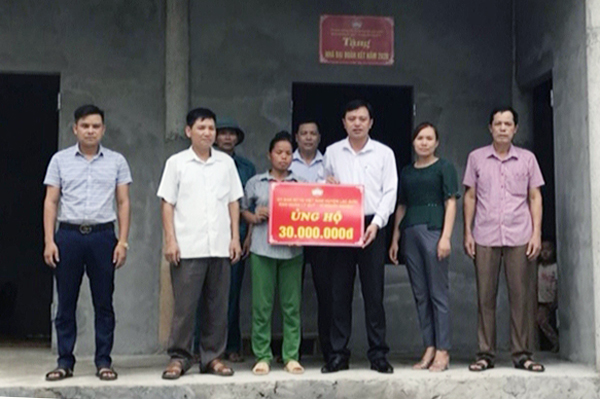 Officials of the VFF Committee of Lac Son district hand over a new house to a poor family in Tan My commune.
Specifically, authorities of Lac Son district built 23 new houses, Tan Lac district 15, Da Bac district 19 and repaired one, Mai Chau district built 12, Kim Boi district 18, Lac Thuy district eight, Cao Phong district nine, Luong Son district five, Yen Thuy district eight, and Hoa Binh city another four.
Meanwhile, the provincial Farmers' Union helped construct five houses in Lac Son, the provincial War Veteran's Association five houses in Kim Boi, the provincial Committee of the Ho Chi Minh Communist Youth Union five houses in Da Bac, the provincial Confederation of Labour two houses in Tan Lac, and the provincial Women's Union five houses in Yen Thuy district and Hoa Binh city.
Besides the funding from the Fund for the Poor, VFF committees have also encouraged local residents and philanthropists to support in the form of cash and labour. As a result, many houses were worth up to 70 – 100 million VND when completed.
The raising, management and use of the provincial Fund for the Poor have been carried out in line with regulations, thus assisting many local deprived households to settle down and escape from poverty./.