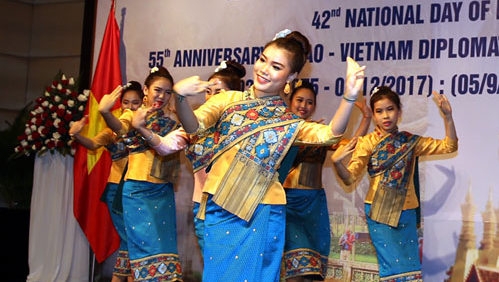 The ceremony to mark Lao National Day and Vietnam-Laos ties
The function was attended by Lao Ambassador Thongsavanh Phomvihane and a number of high-ranking Vietnamese officials including Deputy PM Pham Binh Minh, Vice President Dang Thi Ngoc Thinh and Politburo members Tran Quoc Vuong and Tong Thi Phong.
In his remarks, Deputy PM Pham Binh Minh congratulated Laos for its significant achievements in the last 42 years under the leadership of the Lao People's Revolutionary Party and expressed his belief that the Lao people will build an ever more prosperous and affluent nation.
He also expressed his pride in the special relationship between the two countries, which has been nurtured for generations and is a wellspring that empowers the two countries from one victory to the next.
For his part, the Lao ambassador affirmed that the Lao Party, State and people would strive to maintain and strengthen the time-honoured special relationship and comprehensive cooperation between the two countries.
* The same day, the Vietnamese Ambassador to Laos, Nguyen Ba Hung, visited a number of Lao institutions in Vientiane to extend their greetings on the occasion of the 42nd National Day of Laos.
Source: NDO