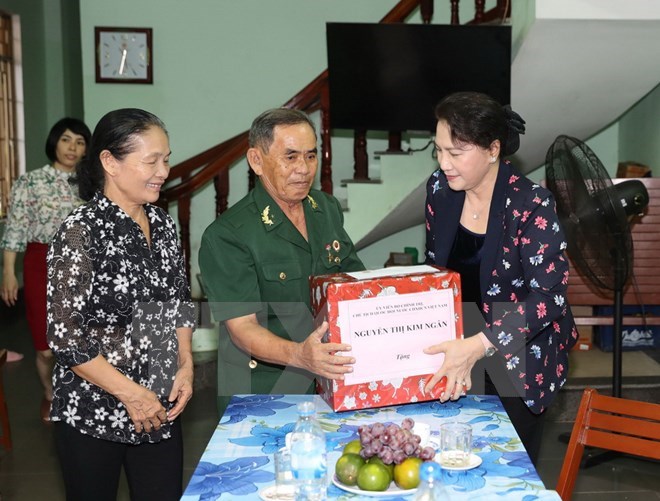 National Assembly Chairwoman Nguyen Thi Kim Ngan hailed the socio-economic achievements of central province of Quang Ngai over the years during a working session with local authorities on July 16.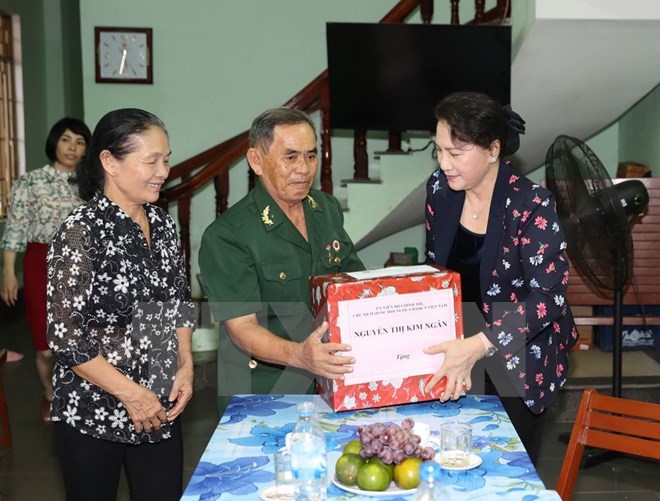 NA Chairwoman Nguyen Thi Kim Ngan (right) presents gift to a local revolutionary contributor (Source: VNA)
The NA leader urged the province to reform administrative procedures to enhance its competiveness and lure investment and to strengthen dialogues between authorities, locals and enterprises to tap its potential in the sea-based economy and tourism.
Quang Ngai needs to accelerate agriculture restructuring along with building new style rural areas, with a focus on vocational training, job creation while ensuring social welfare and looking after social policies beneficiaries, individuals who served the nation, and ethnic minority groups.
The locality has proposed state agencies provide housing support to 5,536 needy households whose members served the nation, worth a total 160 billion VND (7.04 million USD). It has advanced 20 billion VND ( 88,000 USD) to build houses for the first 500 households.
There are 11 martyrs' cemeteries in the province, with nearly 28,000 graves. Minister of Labour, War Invalids and Social Affairs Dao Ngoc Dung said the ministry will consider financial aid for the province to repair the cemeteries.
The Minister urged the locality to prioritise the six poorest districts, with a focus on locals' livelihood, vocational training and high-quality human resources training.
During the occasion, the NA Chairwoman handed over to Secretary of the Ly Son island district Party Committee Nguyen Viet Vy 20 billion VND (880,000 USD) mobilised from the State Bank of Vietnam and the Ministry of Industry and trade to help the district build a market. She also gave gifts to the social beneficiaries in the district.
Provincial authorities also offered 106 water filters for needy residents in Ly Son island district.
The top legislator and delegates also visited the Quang Ngai provincial Centre for Nursing Revolutionary contributors in Tinh Khe commune, Quang Ngai city.
Additionally, she presented gifts to local revolutionary contributors and their families.
In the early months of this year, Quang Ngai recorded a GRDP growth of 1.25 percent year on year, while state budget collection hit 66 percent of expectations. It also granted investment licenses for two foreign investment projects, with combined capital exceeding 62.55 trillion VND (2.75 billion USD)
.
Source:VNA