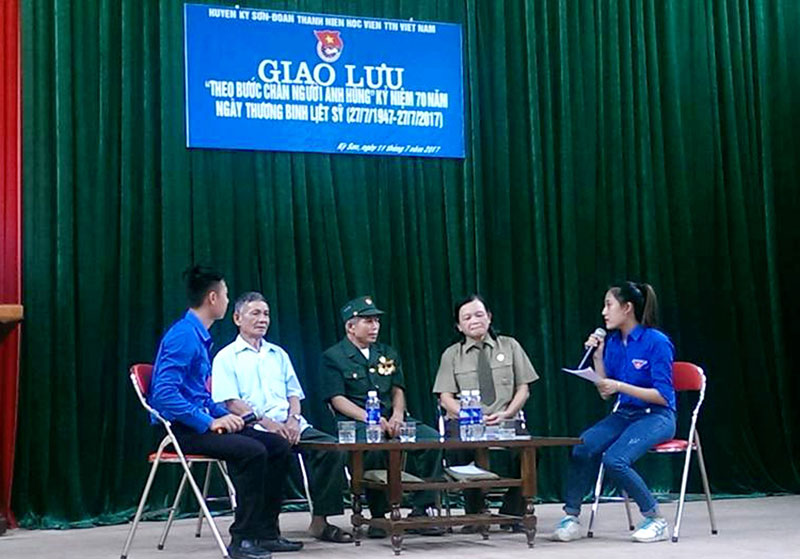 (HBO) – Amid the strong development of social networks, some organisations and persons have posted false articles and video clips smearing the prestige of officials at different levels and triggering suspicion among the public. Due to insufficient awareness, some people, including officials, civil servants and young people have watched, downloaded and shared those information and clips, thus unintentionally abetting such propaganda. Youth union committees at all levels, with the main function of education, have been making efforts to raise the youth's awareness, helping young people to stay "immune" to the "peaceful evolution" plot.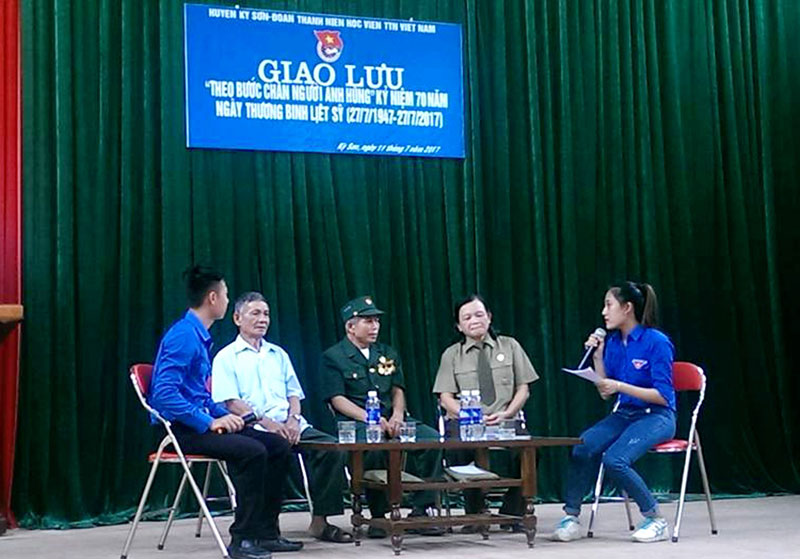 To improve youth union members and young people's awareness, the standing board of the Ho Chi Minh Communist Youth Union (CYU) Committee in Ky Son district organised a talk show themed "Following the heroes' steps" on the threshold of the 70th War Invalids and Martyrs Day (July 27, 1947).
The youth is an important part of the national development strategy. However, the fact shows that a proportion of young people still have limited awareness and since they are young, they are easily provoked and duped by hostile forces through both material and spiritual ways.
Facing that fact, the CYU committees at all levels across Hoa Binh province have paid special attention to educating the young for many years. The standing board of the provincial CYU Committee ordered its subordinate committees to increase educating the young on hostile forces' sabotage activities in the Internet. The subordinate agencies were also asked to closely work with press outlets to provide right viewpoints for the youth and make plans to promote the young's wisdom in refuting erroneous and hostile viewpoints in the Internet.
In particular, as the use of social networks is increasingly popular, the provincial CYU Committee has encouraged the use of social networks to educate youngsters. The committee's standing board directed subordinate CYU committees to step up joining young people on social networks, thereby understanding the young's aspiration and educating them in the most effective manner. CYU officials and committees have been called to create posts on social networks, such as photos and video clips on local CYU activities. Young people have also been encouraged to post information and images of CYU activities on their personal Facebook and Zalo pages. Persons in charge of communications have also regularly engaged in activities on social networks to help fight and rebut wrongful arguments and information, thereby defeating all plots of hostile forces.
In early July 2017, the CYU Committee of Ky Son district organised a forum on social networks' influence on young people's life. More than 100 CYU members and young people from local CYU organisations across the district who represented various social strata gave viewpoints from various angles, helping the district CYU Committee gain an insight into local youth.
Nguyen Duc Tinh, Vice Secretary of the Ky Son district CYU Committee, said there are still a small number of young people who became disoriented due to information noise on social networks. Aside from providing right information and reinforcing the youth's trust, the forum also clarified strong points and shortcomings to help young people use social networks more scientifically in the future. It was also highly valued by the local Party Committee and administration, helping to create a good effect on the district's young people.