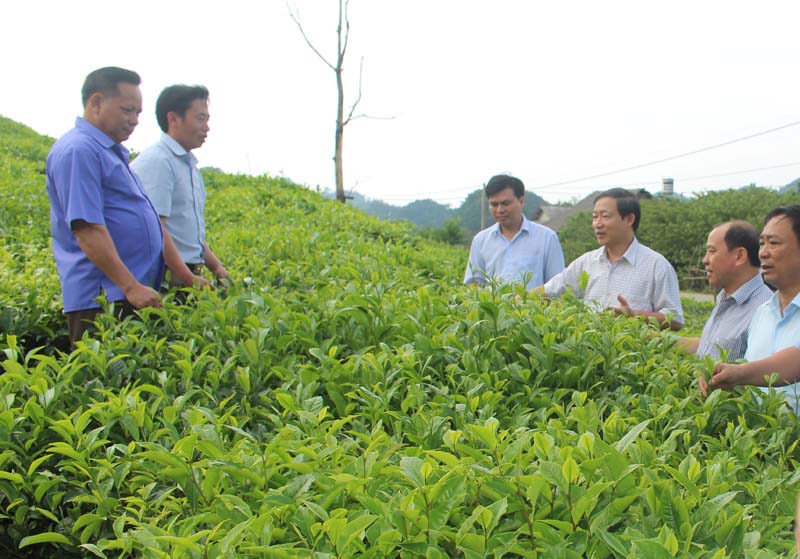 (HBO) - Hoa Binh is a province with a large ethnic minority population of 73%, 6 ethnic groups living together, including Muong, Kinh, Tay, Thai, Dao, Mong, of which 63% are Muong ethnic minority people. Muong. The province currently has 99 communes with extreme difficulties and 99 villages and hamlets with extreme difficulties under the Program 135, in the period of 2016-2020.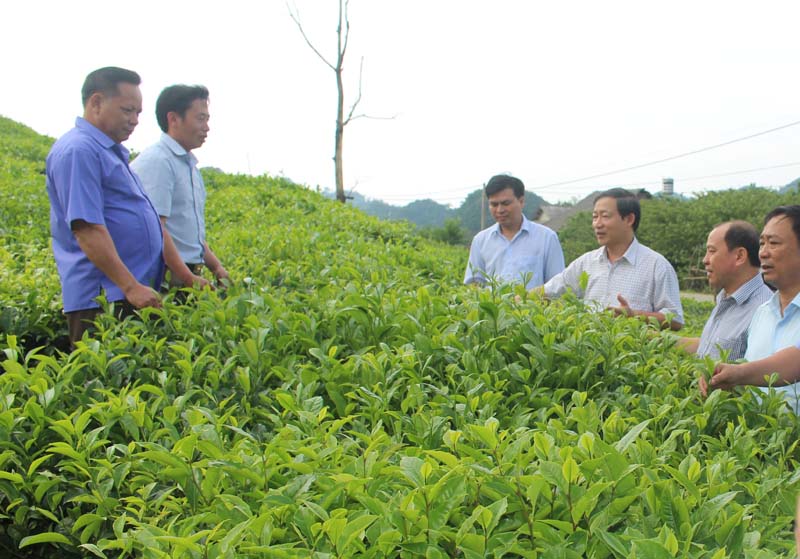 Mr. Bui Van Cuu, Vice Chairman of the provincial People's Committee and leaders of some departments and organizations are visiting Pa Co Shan Tea Area (Mai Chau).
From the period of 2009-2014 up to now, the Party and State have invested thousands of billions VND in funding; at the same time, they integrated many other mobilized funds to improve more and taken more care of the ethnic people in the provincial minority areas. The guidelines and policies of the Party and the State through the prestigious people in the community and the realization has created a good effect on the local people, strengthening the people's belief in the leadership of the Party.
Before 2015, the daily life of people living in the Mong people Areas in the 2 communes of Hang Kia, Pa Co (Mai Chau) had been hard because of lack of clean water at home. The Program 135 has built the high water storage tanks, using water pipes for water to flow into each house. Since then, the local people have not had to use the water providently and save water, too.
Looking back on the path of implementing the ethnic minority policies until the end of 2017, many economic indicators, infrastructure, society, education, health, culture, target of the New Rural Construction program have achieved important results, such as: the situation of ethnic minorities is basically stable; political security, material and spiritual life of the local people has been raised. The average income of the province is 39,95 million VND / person / year, the gaps between urban areas and rural areas, ethnic minority areas has been narrowed. 100% of the communes have roads for cars to travel to the centers of the communes. 99.41% of communes have access to national electricity; 99.31% of the households have access to use electricity; the percentage of the households using hygienic water reaches at 86%; 51% laborers have been trained; the figure of household of poor ethnic minority people according to national standards reduced to 33%; 100% of preschool children attended the classes at the right age; 25.24% of communes met the national health standards; 20% of communes, wards and towns have cultural center houses; 100% communes, wards and towns have commune cultural post offices.