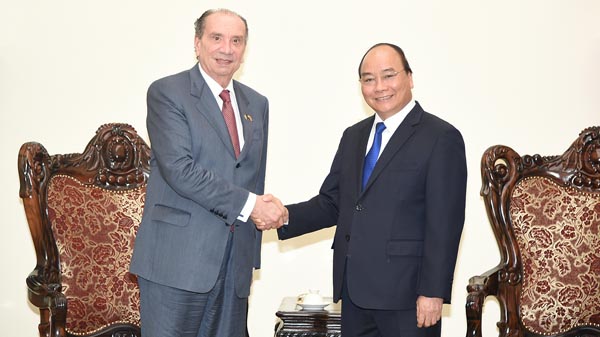 Prime Minister Nguyen Xuan Phuc (R) receives Brazilian Foreign Minister Aloysio Nunes Ferreira (Photo: VGP)
During a reception for Ferreira in Hanoi on September 11, PM Phuc described the Brazilian minister's official visit to Vietnam as important event to promote multifaceted cooperation between the two countries, noting that despite geographical distance, they have a traditional friendship.
Minister Ferreira said he and the Brazilian people also have special sentiment towards Vietnam and admire its struggle for national liberation in the past and socio-economic achievements at present.
Briefing the host about the earlier talks with Deputy PM and Foreign Minister Pham Binh Minh, Ferreira said the two sides discussed cooperation orientations in the time head as well as multilateral issues of mutual concern. They shared the same view on various issues at international forums such as the United Nations and the World Trade Organisation.
The minister said he is impressed with the continuous growth of bilateral trade, reaching US$3 billion in 2016, adding that the two countries should enhance ties in other aspects like science-technology, security-defence, education-training and agriculture.
Brazil wants to export a number of products to Vietnam, including beef, and the country is also pushing forwards with reforms and hopes to attract more Vietnamese investment, he noted.
At the meeting, Ferreira also handed over the Brazilian President's letter of invitation to PM Phuc to pay an official visit to Brazil.
Expressing his thanks to the Brazilian President for the invitation, the Government leader suggested the sides increase the exchange of high-ranking delegations which will serve as a foundation for stronger cooperation in other fields.
Echoing his guest's view on the impressive trade growth, PM Phuc said the two countries need to foster partnership to multiply trade revenue in the near future.
He emphasised the inter-governmental committees' role in mulling over cooperation directions, especially in trade, investment, culture and other spheres.
Brazil is a big market with a population of 200 million while Vietnam has almost 100 million people, which is a potential and opportunity for their enterprises to cooperate in investment and business activities, he stressed.
Vietnam wants Brazilian firms to invest in the country, PM Phuc said, asking the two sides to work together to remove obstacles and create the best possible conditions for their businesses' investment and business partnerships.
Source: NDO