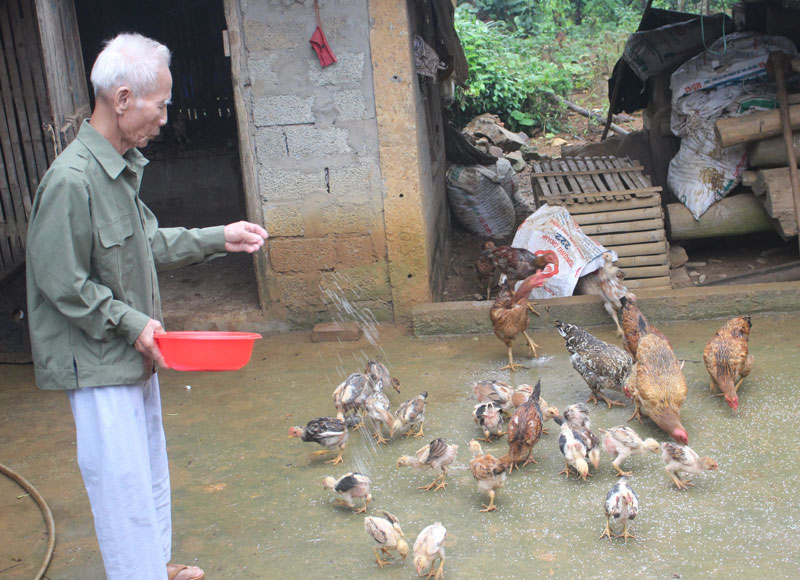 Mr. Bui Anh, the Chairman of the Provincial Elderly Association says the Elderly Associations of all levels in the province have regularly and closely been following and implementing the activities of the Association. They have actively advised the Party Committee, the appropriate authorities, and coordinated with the other departments, branches and unions to perform the key tasks of the Association. The content of the Association's activities is increasingly rich and diverse.
In order to promote the care for the elderly, during the Lunar New Year, the Elderly Association of all levels consulted and coordinated to pay visits, awarded 6.984 gifts worth over 1.7 billion VND to poor the elderly people. At the beginning of the spring, they also organized the longevity wishing ceremonies for 8.716 elderly people at the ages of 70, 75, 80, 85, 90, 95, 100 and over 100 years old with a total expense of over 2 billion VND.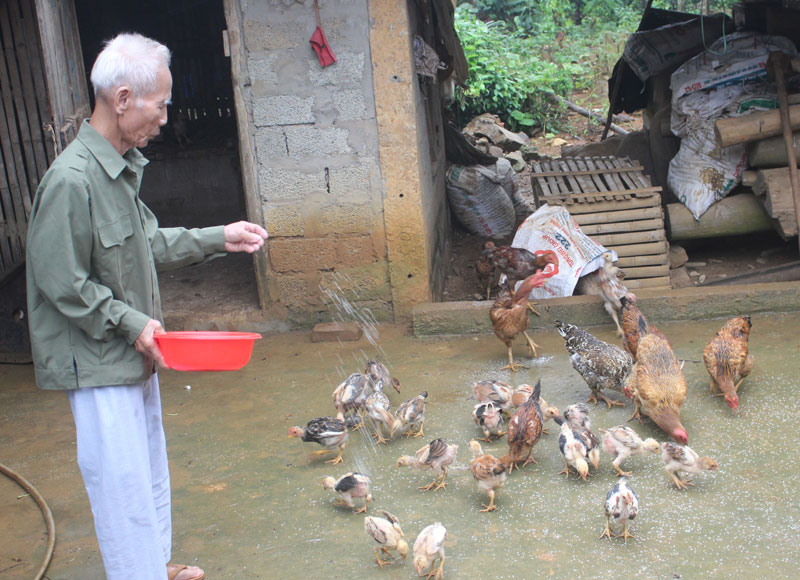 The elderly members of Hop Thinh commune (Ky Son) have been raising poultry to improve income and their lives.
In addition, the Elderly Association has also cooperated with the medical care to implement the health care for the elderly people. In particular, the priority for health examination is for those who have joined the inter-generational clubs to help one another. They have been coordinating with Lead Vietnam Group to conduct the free health examination and consultation for the elderly in Cao Phong, Tan Lac and Lac Son districts. The Elderly Association of all levels continues to coordinate with the Department of Labor, Invalids and Social Affairs to review and make a list of 15,831 elderly people who are eligible for social assistance. They have reviewed 6,354 elderly people, proposing the People's Committee of the province to expand the beneficiaries of the social protection.
All levels and members of the Elderly Association throughout the province have actively cooperated with the Public Security to raise the role of the elderly in the movement of preventing and controlling crimes, the exemplary care and educating the descendants to build harmonious families, well executing the Party's lines, policies and the laws of the State. Currently, there are 17,859 elderly participating in the reconciliation work, the security teams, the civil defense groups, self-management teams and so on. They have provided 289 valuable information to the police agencies, contributing to ensuring the security and building the strong Party, the government and organization. Besides, there are more than 20,000 the elderly participating in the Fund for Promotion Education.
The Association is really a sweet home for the Elderly. In the first 6 months, the province has admitted 3,675 new members, bringing the total number of members to 103,272 people, working at 1,662 sub-associations.