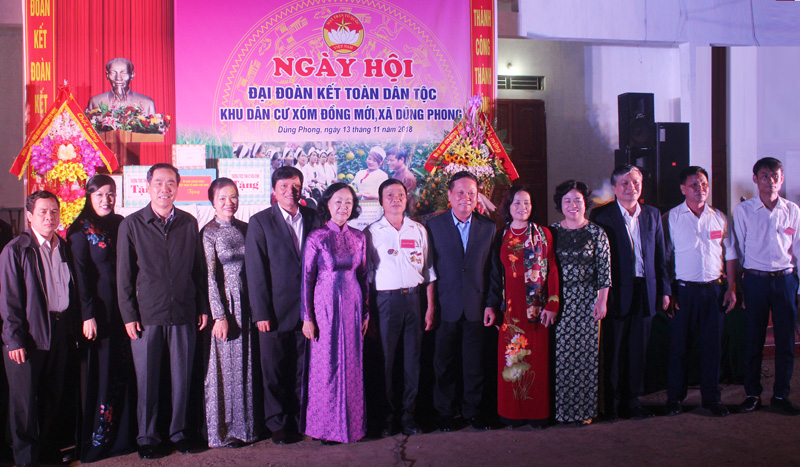 (HBO) - During the 2014 – 2019 term, under the leadership of all-level Party Committees and with the guide of the Vietnam Fatherland Front (VFF) Central Committee, the province's Fatherland Fronts at all levels have been active in performing their tasks, achieving positive results that have contributed to the successful fulfillment of local political missions.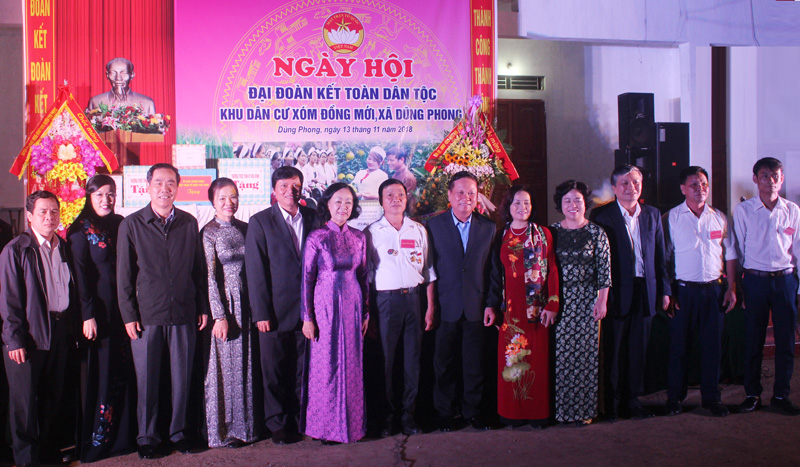 Leaders of the Party Central Committee's Commission for Mass Mobilisation and Hoa Binh province enjoy the festival of great national unity alongside people of Dong Moi village, Dung Phong commune, Cao Phong district, last year.
The province's Fatherland Fronts at all levels have focused on implementing five action programmes designed for the 2014-2019 term. They have come up with many creative solutions with diverse methods of mobilising people to comply with Party's policies and the State's laws. They have also cooperated with other agencies to unite people from all walks of life and bring into full play the strength of the great national unity.
Patriotic emulation movements and campaigns launched by the VFF and its member organisations have seen new steps of development with unit-oriented approach and creativity in organisation. Many models have proved effective and been scaled up, mobilising mass participation of people.
The all-level VFFs have taken actions to care and protect rights and legitimate interests of and promptly gathered and learned about aspirations of people. At the same time, they have given advice to build the Party and strengthen the pure and strong government. The community-based self-management models have been applied and effectively expanded. All these have significantly contributed to the successful implementation of the Resolution of the 16th provincial Party Congress for the 2015 – 2020 tenure.
In the new period, the provincial VFF must keep up their good work in gathering and uniting forces for the development of rich, civilised and sustainable Hoa Binh province. It needs to reform its ways of operation towards a people-oriented approach and effectiveness and to develop a team of competent personnel. It also should strengthen people-to-people diplomacy and enhance solidarity, friendship and cooperation for peace and development while improving quality and effectiveness of patriotic emulation movements in celebration of the 17th provincial Party Congress and the 8th National Party Congress.