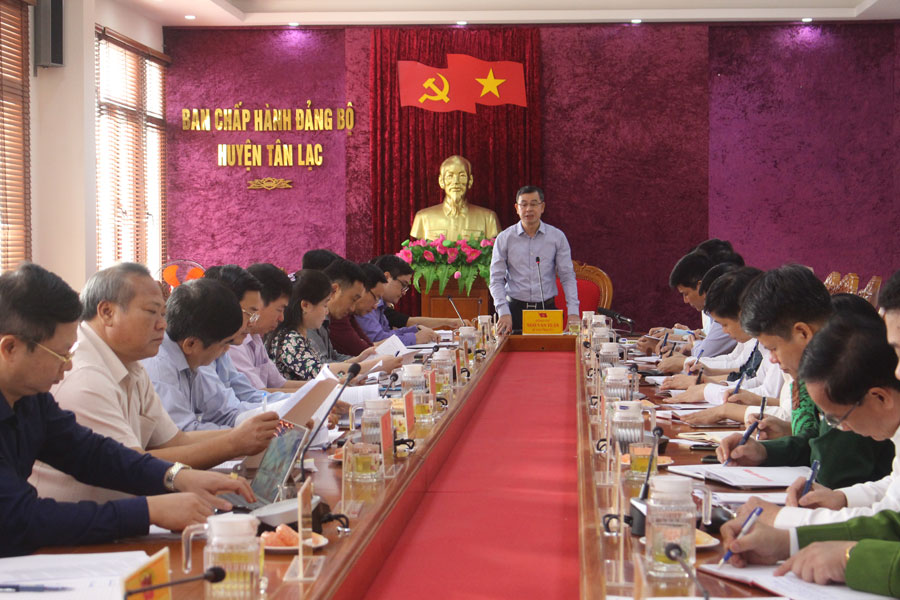 (HBO) - Secretary of Hoa Binh province's Party Committee Ngo Van Tuan had a working session with the standing board of Tan Lac district's Party Committee on November 25 to discuss the socio-economic development in 2020 and tasks in the time ahead. Leaders of departments and sectors also attended the event.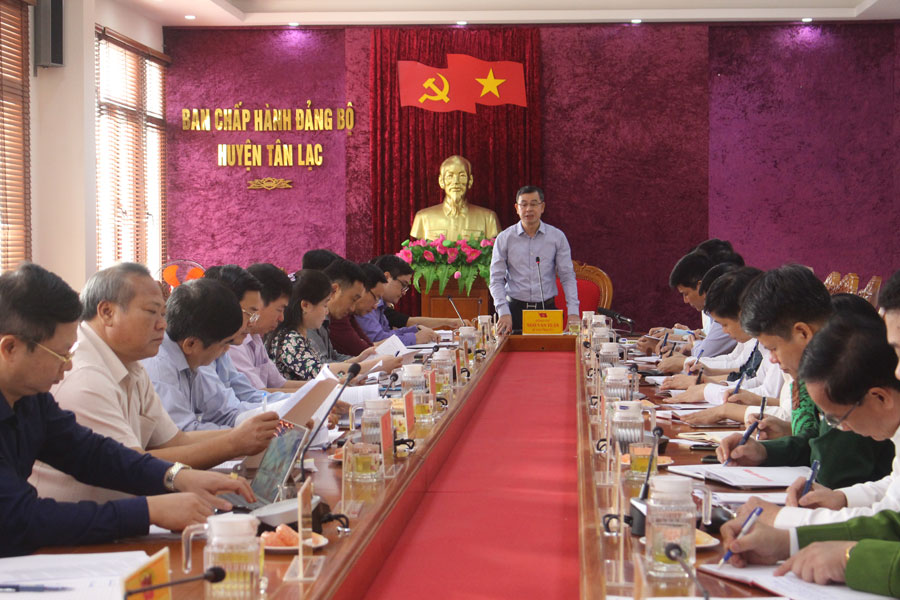 Secretary of Hoa Binh province's Party Committee Ngo Van Tuan speaks at working session.
This year, Tan Lac district Party Committee's standing board has focused on directing socio-economic development tasks and achieved positive results with 12 out of 17 targets reaching and exceeding the targets set in the Party Committee's resolutions. The agro-forestry-fishery, industry-construction and services sectors account for 31.2 percent, 32.2 percent and 36.3 percent in the economic structure, respectively. Per capita income reaches 47.5 million VND, the poverty rate is 12.3 percent and State budget collection hit 80.5 billion VND. Socio-economic fields see progress, and the building of Party, government and political system receives special attention.
In 2021, the district set targets of 53.2 million VND in per capita income, 60.72 billion VND in State budget collection and 10.45 percent in poverty rate.
The district also reported the implementation of the provincial Party Committee standing board's conclusions on community-based tourism development in Lung Van commune and the implementation of the National Target Programme on Sustainable Poverty Reduction.
Tan Lac proposed the province promulgate a number of mechanisms and policies to support infrastructure development, arrange capital to build a road from Ba Khan to Ngoi hamlet in Suoi Hoa commune, provide resources to make planning adjustments to Man Duc town, develop Phong Phu urban area, and handle mechanisms for officials and public servants after arrangement.
Departments and sectors clarify some proposals and recommendations of Tan Lac district, and request the district pay attention to support production development and new-style rural area building, to creating livelihoods for locals, preserving cultural identity and developing tourism.
Secretary of the provincial Party Committee Ngo Van Tuan asked the district to well disseminate all-level Party congresses' resolutions, especially the 17th provincial Party Congress's resolution, review achievements and analyse weaknesses to successfully carry out political tasks in 2021.
Tan Lac should better its apparatus, intensify Party building, and reform and increase the efficiency of State offices and organisations.
At the same time, it is important to work on the twin targets of COVID-19 prevention and control and socio-economic development, he stated, requiring the district to make good planning to attract more investment in urban, tourism and clean agricultural development.
The district needs to strengthen coordination between departments and branches in administrative reform and land clearance, solve difficulties for production and business, speed up disbursement, and increase revenue from land auction to re-invest in infrastructure.
Attention should be paid to ensuring security and safety and ensuring safe life for locals. Secretary Tuan acknowledged the proposals and recommendations of the district, and assigned departments and sectors to handle them./.