(HBO) – To successfully carry out the resolution issued at the 23rd Party Congress of Kim Boi district for 2020 - 2025, the Standing Board of the district's Party Committee has ordered local Party organisations and cells to carry out breakthrough measures right since the start of the tenure.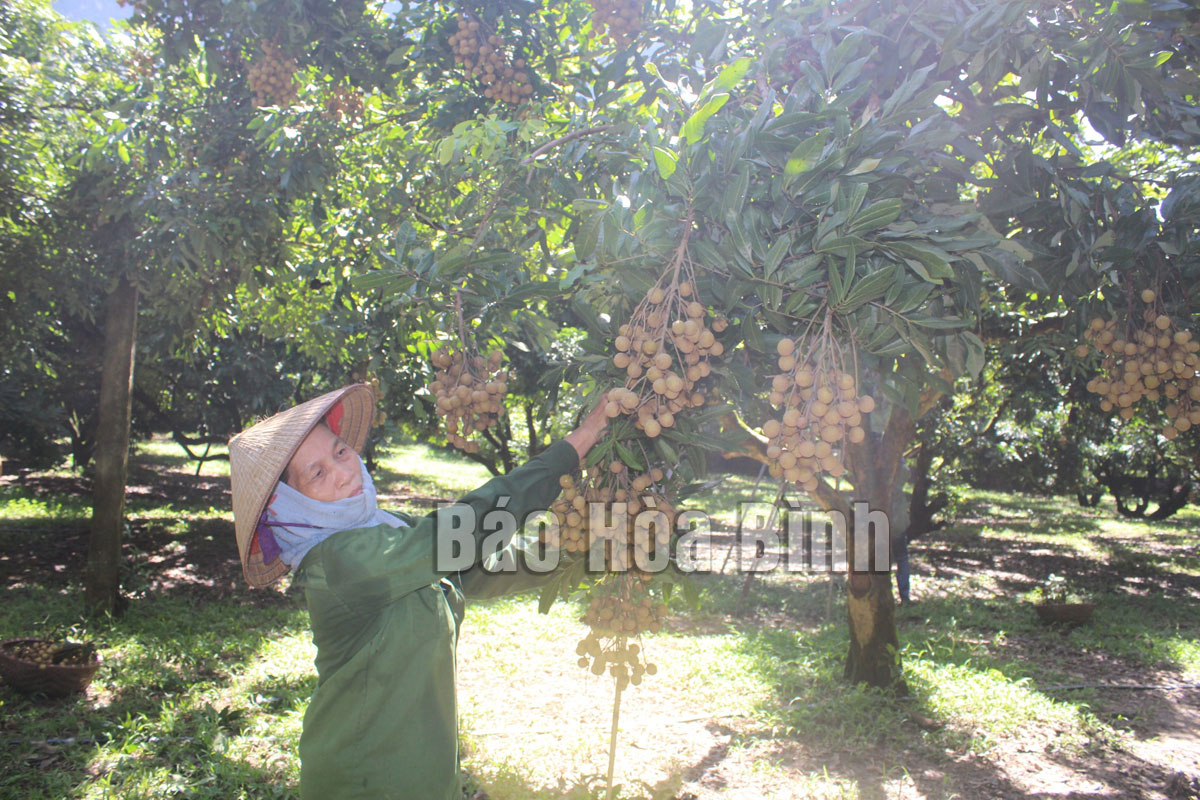 Kim Boi district is working to realise the resolution of its 23rd Party Congress by implementing different plans, including a scheme on agricultural restructuring for 2021 - 2025. Photo: Farmers in Xuan Thuy commune enjoy a bumper longan harvest.
The 23rd Party Congress of Kim Boi district set 18 concrete targets, five groups of focal tasks, and implementation solutions for the next five years.
To help the district achieve socio-economic development based on services and sustainable agriculture, the Party organisation of Kim Lap commune is working to promote cash crop production and commercial forestry.
Secretary of the Kim Lap Party Committee Bui Manh Cuong said the Party Committee has ordered the communal People's Committee, sectors, and organisations to boost communication activities to encourage locals to apply scientific and technical advances, cultivate new and high-yield plant varieties, and replace poor-performing crops with plants with high economic value while still adhering to the crop planning.
He noted that right at the beginning of the tenure, Kim Lap commune built a land use plan for 2020 - 2025 under which it will expand the model of high-yield fields to form concentrated farming zones for such produce as cucumber, wax gourd, water melon, tangerine, orange, and pomelo.
Aside from Kim Lap, other grassroots Party organisations in Kim Boi are also stepping up efforts to implement the resolution of the district's Party Congress.
Bui Van Hung, Secretary of the Vinh Dong communal Party Committee, said as Vinh Dong is included in the district's tourism development plan, its Party Committee has been working to persuade local residents to support the investment attraction policy and create conditions for businesses and cooperatives to develop tourism, services, and wooden handicrafts.
With detailed solutions and the solidarity and high consensus among local Party committees and administrations, Kim Boi district is believed to record strong socio-economic development and achieve the targets set in the resolution of its 23rd Party Congress for the 2020 - 2025 tenure./.