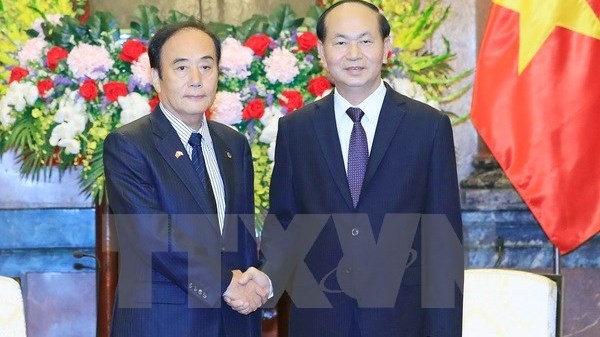 President Tran Dai Quang receives Governor of Saitama prefecture Kiyoshi Ueda in Hanoi (credit: VNA)
During a reception in Hanoi on November 2 for Governor of Saitama prefecture Kiyoshi Ueda, President Quang said that over more than two decades, Japan has always been the largest donor of Vietnam with a total official development assistance amounting to nearly US$25-27 billion, mostly for infrastructure.
Japan has been the second largest investor in Vietnam with more than 3,500 valid projects worth upwards US$46 billion. It is also the sixth largest trade partner with roughly US$30 billion in two-way trade.
He suggested providing optimal support for the two countries' businesses via investment and trade, tourism and labour promotion activities.
Vietnam is improving the business climate to create a level playing field for all firms, he said, adding that the country welcomes Japanese investors, including those from Saitama prefecture, to expand investment in the country.
The host expressed his wish that apart from infrastructure, Vietnam wants to extend bilateral partnership in fields of Japan's strength, including high technology, agriculture, industry, and food hygiene to meet requirements of the industrial revolution 4.0.
Kiyoshi Ueda briefed the Vietnamese President about the potentials and strengths of Saitama prefecture in the Japanese economy, as well as Saitama's business operations in Vietnam.
He said it is his fifth visit to Vietnam since he took office in 2012. The prefecture and the Ministry of Planning and Investment (MoPI) signed a memorandum of understanding to create favourable conditions for Saitama's firms to do business in Vietnam.
The Japanese guest said Saitama Office in the MoPI's Foreign Investment Agency specialises in providing assistance for Japanese enterprises in Vietnam. Among 47 Japanese cities and provinces, Saitama ranks fifth in economic size and gross domestic product and is home to large-scale plants in the fields of industry, technology, pharmaceuticals and cosmetics.
According to him, Saitama's businesses highly value Vietnam's business conditions for its hard-working employees.
He expressed his hope that the prefecture would receive further support from the MoPI.
At the reception, Japanese Ambassador to Vietnam Kunio Umeda conveyed a message from Prime Minister Shinzo Abe as saying that he is looking forward to meeting President Tran Dai Quang during the upcoming APEC Economic Leaders' Week in Da Nang city.